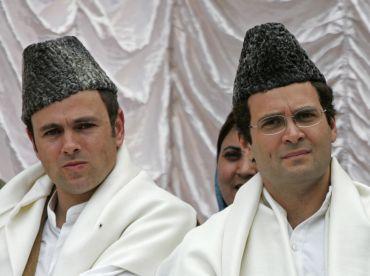 Law Minister Salman Khurshid on Friday dismissed reports of a tiff between Rahul Gandhi and Jammu and Kashmir Chief Minister Omar Abdullah over empowering sarpanches in the state but insisted that they should be given power across the country "without any exception".
"Not at all," was his response when asked if the issue of giving power to the elected panchayat members and sarpanches under the Panchayati Raj Act has snowballed into a Rahul versus Omar issue.
Khurshid said it should be seen as a matter of political engagement -- related to social justice and political justice.
"The Congress president (Sonia Gandhi) and Rahul Gandhi have a very strong commitment towards the rights of panchayats. This is a commitment that we have made to the whole country and they want it to be implemented across the country without any exception," he said, explaining as to why Rahul was taking so much interest in the matter.
A nine-member delegation of sarpanches from Jammu and Kashmir had met Rahul on Thursday at his residence complaining that the state government has not delegated powers to them under the Panchayati Raj Act and was treating them like "second-rate citizen".
The issue of security threat to panchayat members and the non-delegation of powers to them was also raised in Congress Working Committee meeting on Tuesday.
The delegation of sarpanches had also sought compensation of Rs 20 lakh for dependents of each of the three sarpanches killed in the state and requested Rahul to address at least one Mahapanchayat meeting each in Jammu and in Kashmir.
Rahul had told them that he would visit the state soon.
The law minister also noted that no power is being delegated or decentralised to sarpanches in the state, which has been the Congress policy.
"I do not know what issues are holding back this decentralisation. I am sure that Rahul's intervention will give a boost to this demand and we will probably see it being implemented because this is a commitment, we have given to the people of India," he said.
Image: Rahul Gandhi and Omar Abdullah during a campaign rally in Anantnag
Photograph: Fayaz Kabli/Reuters