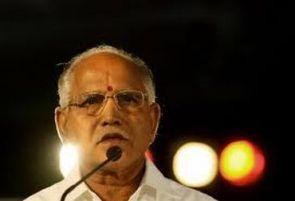 Despite efforts being made to bring back Kartanaka Janatha Paksha chief B S Yeddyurappa to the Bharatiya Janata Party, the former chief minister has made it clear that he is not interested.
"There is no question of me going back to the BJP", Yeddyurappa told mediapersons in Bangalore on Friday.
To a question if he would return to the BJP, now that Narendra Modi is in control, Yeddyurappa said, "I respect Narendra Modi a lot. However I have a separate identity of my own and would like to maintain that."
"If the central leaders want to meet with me regarding me getting back to the BJP, then I will see at that time, but for now there is no question of going back. I understand that the BJP is looking to strengthen the party. But I have my own party, the Karnataka Janatha Party. I will work for my party," the influential Lingayat leader clarified.
The Karnataka state BJP, which was drubbed in the recent assembly election, has been doing some soul-searching. Several leaders feel that the absence of Yeddyurappa led to their defeat and it was in the best interest of the party to get him back.