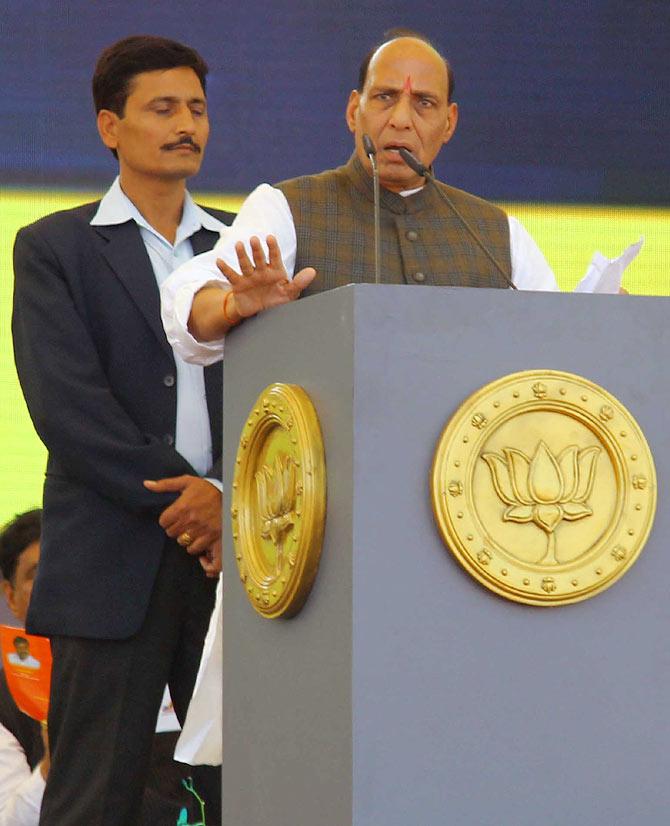 No power on earth can stop the Bharatiya Janata Party from getting majority in Lok Sabha elections, party president Rajnath Singh said on Sunday.
"People have given a clarion call for change. As the BJP national president, I have come to the conclusion that people of India have made up their mind that there is a need for 'parivartan' (change)," Singh said.
"There is an outcry against the Congress," the BJP leader said at the 'Maha Garjana' rally organised by his party in Mumbai.
Ridiculing Congress as only eight of its candidates were elected in the recent Delhi Assembly elections, Singh said a Toyota Innova was big enough to carry all the Congress members of Legislative Assembly around.
"If our government is formed (after the Lok Sabha polls), we will encourage the manufacturing sector and strengthen the rupee," Singh said.
The BJP chief targeted Maharashtra's Congress-Nationalist Congress Party government over corruption.
"Adarsh, Campa Cola society scam, irrigation scam...It seems as if the Maharashtra government has become a government of scams. The Adarsh panel report was rejected saying it was done so in public interest. Can there be a public interest in corruption," he said.
The Congress has become a shield for corruption, he said.
"The Congress says, can a tea vendor (Modi) become the prime minister? Barack Obama has sold ice cream, Abdul Kalam sold newspapers, Lincoln cut wood. If they can reach pole position, why not Narendra Modi?," Singh asked.
"Congress people call us chor (thief) and jahriley (poisonous) party, maut ka saudagar (merchant of death). But we don't get angry. We get angry when we realise our borders are shrinking, when Pakistani soldiers behead our jawans, when China makes incursions, when US does not give us Headley," he said.
Singh also flayed the Congress for seeking to claim credit for the Lokpall Bill passage. "Those immersed in corruption, claim they passed Lokpal. I would like to give credit for Lokpal to Anna Hazare. Congress, which jailed Hazare, is claiming the credit," he said.
"I want to ask the crowd, can you assure us at least 46 of the 48 LS seats from Maharashtra," he said.
Singh paid tributes to Bal Thackeray, who passed away last year.
Photographer: Hitesh Harisinghani