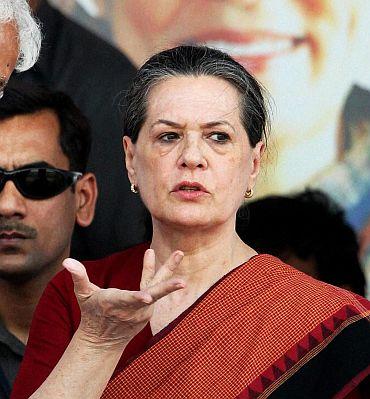 Sheela Bhatt, who attended the dinner at the prime minister's home on Wednesday evening to celebrate UPA-II's fourth anniversary, sensed a deep unease in the ruling echelons.
Anniversaries are often dicey affairs -- in one's life; in a nation's existence; even for political parties. If things are not going well, the milestones are not easy to celebrate. Rather, it can make one uncomfortable.
There was discomfort in the air at 7, Race Course Road on Wednesday evening where Prime Minister Manmohan Singh, Congress President Sonia Gandhi, party vice-president Rahul Gandhi, chief ministers of Congress-ruled states and the Union Cabinet gathered with the dwindling number of UPA constituents to release the report card to the people of India.
Sonia Gandhi's political speech saved the evening, but the contrast of UPA-I with UPA-II was clearly visible.
In 2004, the Congress party came to power only because of its clever choice of allies. UPA-II has seen its rainbow of allies fading quickly.
How the Congress is increasingly isolated was starkly visible at the table where Sonia Gandhi and Dr Singh were seated. There were not enough political allies to fill up the tables. There were simply not enough senior leaders of UPA constituents to raise the tempo of the event.
The presence of Amar Singh at Sonia Gandhi's table was enough to understand the Congress's woes vis-a-vis its allies. The absence of leaders from the Dravida Munnetra Kazhagam, the Trinamool Congress and the Samajwadi Party was clearly felt.
The only saving grace for the Congress was Mayawati confidante Satish Mishra who represented the Bahujan Samaj Party.
Congress event managers said although an invitation had been issued to Samajwadi Party chief Mulayam Singh Yadav, they did not expect him to attend the dinner. They did hope though that Samajwadi Party leader Ram Gopal Yadav would turn up.
Although the leaders of UPA constituents like Nationalist Congress Party chief Sharad Pawar, Rashtriya Lok Dal leader Ajit Singh and National Conference President Farooq Abdullah were present, none of them can be called loyal partners of the Congress party.
Their political weight in terms of seats in the Lok Sabha is not enough for the Congress to drag the government for one more year with confidence.
Lok Janshakti Party chief Ramvilas Paswan, E Ahamed of the Indian Union Muslim League, Badruddin Ajmal from Assam and two leaders from North-East-based parties joined the celebration of four years of UPA-II -- but the party spirit was missing.
Sonia Gandhi, nevertheless, tried to save the situation by radiating confidence in her party's position. Her short speech had political clarity. She, expectedly, repeated and stuck to the Congress's core constituency.
"Our focus has never been in doubt," she said, "and we have never deviated from our priorities: To strengthen our secular ethos, to address the needs of our people, especially the weaker sections, whether they are women or minorities, scheduled castes or scheduled tribes or backwards, to pay special attention to farmers and workers and to strive for a growing, dynamic economy that is both just and inclusive."
The Congress's political plank and core constituency of 2004, 2009 and 2014 will remain the same. She spoke about corruption which has taken her party many notches down in the last three years. "We have nothing to hide, nothing to feel defensive about," she said, adding, "Corruption remains an issue that agitates us all and the public across the country. We have been uncompromising in our approach to combat this scourge."
Most importantly, she took into account the strong perception in the media and amongst the public that there are differences between the Congress party and the prime minister on many issues. She alleged that these are "calculated efforts in some quarters to deliberately falsify and create innuendo, to spread misinformation and untruth."
"The prime minister," she said unequivocally, is carrying out his responsibilities with great dignity in the face of unrelenting hostility and abuse from the Opposition. We respect him, and we all stand by him."
She termed the talk about differences between her and Dr Singh as "drummed-up noise."
Wednesday evening will be remembered for Dr Singh's meaningful remark. When asked, once again, about his nomination for a third term for the prime minister's post, he changed the nuance of the issue. He quoted poet Mohammad Iqbal: 'Sitaron se aage jahan aur bhi hai.' This can be interpreted in many ways.
The couplet's second line is 'Abhi ishq ke imtihan aur bhi hain' -- which the prime minister did not recite. The couplet can be loosely translated as: There is a galaxy beyond the stars; there are many more tests of passion.
When I asked Dr Singh the same question when he was returning from the BRICS summit in Durban in March, he had said, "These are hypothetical questions. We will cross that bridge when we reach there." Eight weeks ago, the prime minister clearly did not rule out the possibility of a third term.
Notwithstanding Sonia Gandhi's full-throttle endorsement of Dr Singh, he seems to be find his future a bit hazy beyond UPA-II. It is debatable if Dr Singh was addressing his critics in the party with Iqbal's verse.
Surely, he took the issue of a third term philosophically by resorting to Iqbal's poetry. It seems he is less hopeful now of becoming prime minister for the third time in 2014.
Dr Singh seems to suggest that the prime minister's position is not everything -- if he does not head the government again, he will seek fresh pastures.
Poetry, it is said, acquires its own meaning when recited by its admirers. After serving the nation for nine years, Dr Singh is talking about looking beyond the obvious.
Through the immortal words of Iqbal, he says let his passion be put to the test.