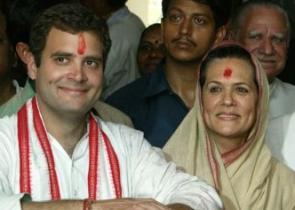 United Progressive Alliance Chairperson Sonia Gandhi on Wednesday dismissed reports of differences with Prime Minister Manmohan Singh, asserting, "We all stand by him".
"There are no differences between the prime minister and me. There is collective leadership," Gandhi told reporters at a function held to celebrate four years of the UPA-II government.
Gandhi said Dr Singh has been facing "unrelenting attack and abuse" from the opposition and expressed her firm support to him.
"The prime minister is carrying out his responsibility with great dignity in the face of unrelenting hostility and abuse from the opposition. We respect him and we all stand by him," she said, asserting that the UPA government, the Congress party and its coalition colleagues have been working closely all these years.
Gandhi said she did not need any reassurance about the prime minister.
"I always had that reassurance," she said.
Dr Singh said Gandhi has been a great source of inspiration for him.
Congress Vice President Rahul Gandhi also echoed these sentiments, saying, "There is no difference between the party and the government. There is no difference between Sonia Gandhi and the prime minister. This is the creation of the opposition."
These remarks have come against the backdrop of the opposition's charge -- that Dr Singh and Sonia Gandhi are not on the same page on policy issues. Leader of the Opposition Sushma Swaraj had said that whenever Dr Singh announces a policy decision, the UPA chairperson intervenes and gets it diluted to win applause.