Sardar Vallabhbhai Patel neither did anything for his family nor has his family taken a "copyright" over him, Prime Minister Narendra Modi on Monday said as he emphasised on highlighting contributions of such great men before future generations.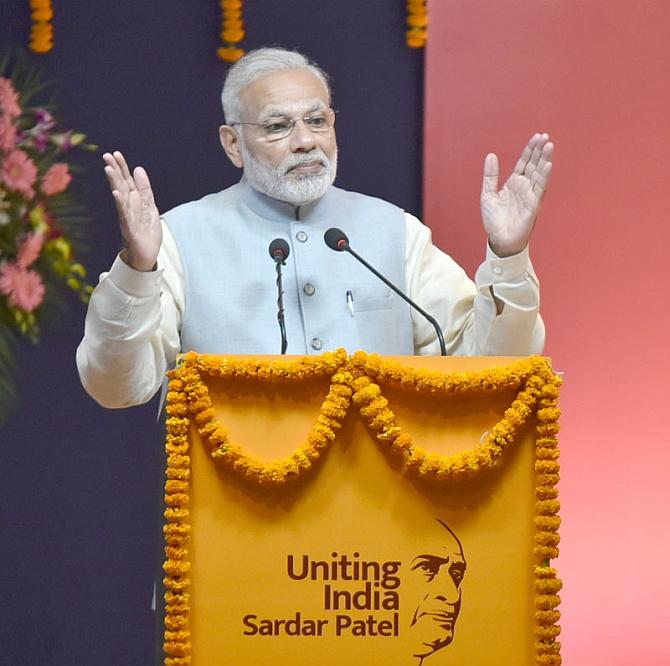 IMAGE: Prime Minister Narendra Modi addressing the gathering at the inauguration of the digital exhibition -- "Uniting India: Sardar Patel", on the occasion of Rashtriya Ekta Diwas, in New Delhi. Photograph: Press Information Bureau
Speaking at an event where he inaugurated a digital exhibition on the life of Patel on his 141st birth anniversary, he also said a country as diverse as India cannot run if we focus on our divisions and not live by the mantra of oneness.
"When we talk about unity, the message is clear, that I am a BJP 'wallah' but Sardar Patel was from Congress and still we are celebrating this jayanti with the same pomp and fervour," Modi said.
He said in the times of every great man there are different ideas and debates associated with them but the succeeding generations don't have the right to use contributions and achievements of great men to create divisions.
The attempt should be to find things from their lives which bind everyone, he added.
"I am surprised that some people ask who am I to celebrate the jayanti of Sardar Patel. But Sardar was such a person whose family has not taken any copyright. And anyways in public life, he did not do anything for his family. Whatever he did, was as duty for the country," Modi said hitting out at critics.
"If we present these examples to the current generation, we can say -- it is alright there is family but pay some attention to the country also," he said taking a swipe at dynasty politics.
Some people were so great, he said, that attempts were made to make their contributions forgotten for 70 years but these met with no success.
"Sardar sahib and his deeds are so strong that after 70 years of efforts no one has been able to forget him," he said.
Terming Patel as a visionary, Modi said that he had brought in a proposal for 33 per cent women's reservation as Ahmedabad municipality chief.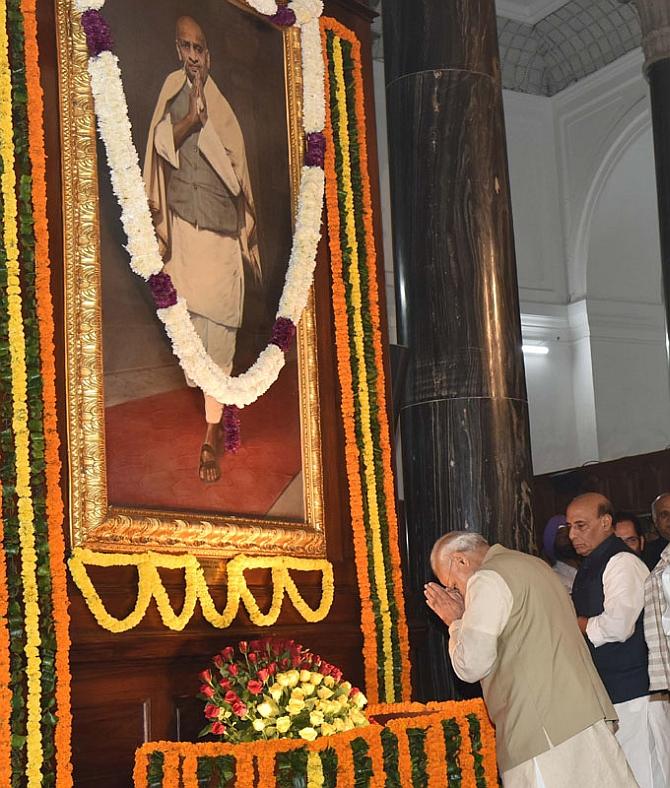 IMAGE: Prime Minister Modi paying tributes at the portrait of Sardar Vallabhbhai Patel on his birth anniversary, at Parliament House, in New Delhi. Union Home Minister Rajnath Singh is also seen.. Photograph: Press Information Bureau
He said that most states were in favour of Patel and not Jawaharlal Nehru to head the government after independence. He added that Sardar, however, accepted Gandhiji's wishes after which Nehru headed the government.
In a lighter vein, he said perhaps being a Gujarati himself Gandhi did not want to pick another Gujarati.
Speaking about Patel's sacrifice in the present context, he said people won't even give up the chairmanship of a municipality.
Earlier in the day, Modi paid floral tributes to Patel at his statue in the heart of national capital at Patel Chowk in New Delhi.
"I bow to Sardar Vallabhbhai Patel on his birth anniversary. We recall his rich contribution to India," he said.
In his speech digital exhibition event, Modi also emphasised on the role of lives of people like Patel in inspiring people to stay united.
"We are watching it everyday and sometimes it appears as if we are looking for ways to diverge. As if we are sitting with binoculars seeking things which can create divisions. A country so filled with diversities cannot run like this. We will have to live by the mantra of oneness. And inculcate it as our heritage and percolate to further generations," he said.
Modi credited to Patel's stature that rulers of hundreds of princely states got convinced to merge in India.
There is a traditional rivalry between Patels and Kshatriyas in Gujarat but even Kshatriya royals agreed with Patel, he said highlighting the spirit of unity.
Modi also said people should be made aware of the contributions of people in freedom struggle. It was more a struggle of the people, than that of the leaders and the contribution of these people should be highlighted.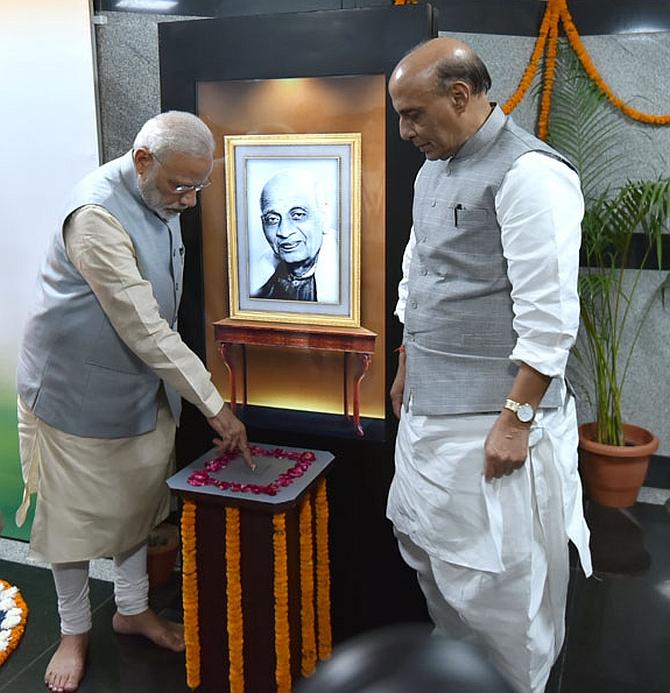 IMAGE: Prime Minister Modi at the inauguration of the Digital Exhibition -- "Uniting India: Sardar Patel", on the occasion of Rashtriya Ekta Diwas in New Delhi. Also seen with him is Union Home Minister Rajnath Singh. Photograph: Press Information Bureau
He said museums would be created in each state to bring forth the contributions of the tribals in the freedom struggle.
At the event, Modi also launched the government's 'Ek Bharat Shreshtha Bharat' scheme to promote greater awareness among people of various states about one another and hence promoting the spirit of unity in diversity.
Six MoUs between two states each were also signed under this initiative.
Modi said people often take pride when their kids speak Spanish or French, but an environment needs to be created when encouragement should be given to speaking more Indian languages.
He suggested a range of activities which children from various states can undertake to know each other better under Ek Bharat, Shreshtha Bharat.
A database of 5,000 questions related to each state can be prepared and there can be quiz competitions, he also suggested.