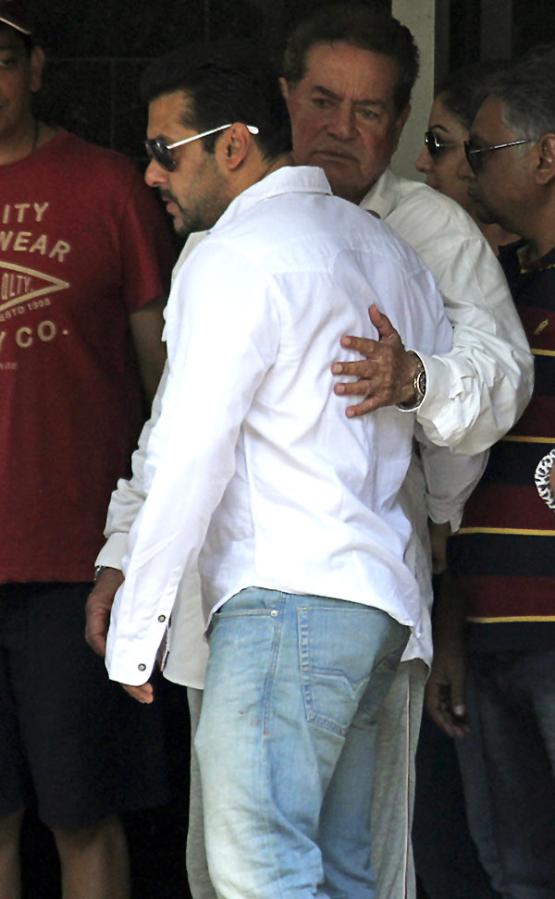 No tears were shed in the court-room on Wednesday when the superstar was convicted in a hit-and-run case. But there were plenty of Bollywood moments, reports Syed Firdaus Ashraf/Rediff.com.
On Wednesday, Room No. 52 at Mumbai sessions court was the centre of universe for Bollywood, and the media. Everybody, it seemed everybody, was assembled there, waiting patiently to know Salman Khan's fate in the 2002 hit-and-run case.
Judgment Day had dawned on the Bollywood superstar 13 years after he had run over and killed a pavement-dweller, Nuru Behra, in the wee hours of September 28, 2002, at American Express bakery in suburban Bandra, Mumbai. Four other pavement-dwellers were injured in the accident.
At least 100 reporters had assembled from 10 am onwards in the tiny court-room of judge D W Deshpande, while 300 more were gathered outside doing, in my colleague Sheela Bhatt's memorable words, 'fielding'.
Salman Khan, clad in white shirt and a pair of blue jeans, walked in at 10.45 am. He had arrived in Mumbai on Tuesday evening, from Srinagar where he was shooting for director Kabir Khan's Bairangi Bhaijaan, following the judge's summons to be present in court today by 11.15 am.
Soon the court-room started slowly swelling with media-persons and lawyers. Among the non-journos were Salman's brothers, Arbaaz and Sohail, sisters Alvira and Arpita, and brother-in-law Atul Agnihotri (who is married to Alvira). Among non-family were Ramesh S Taurani of Tips, and Mumbai Congress politician Baba Siddiqui, who famously brought Salman and Shah Rukh Khan together in 2013 on Eid ul Fitr.
It was not just Salman Khan's fate that was hanging by a thread, even Bollywood's was. So far 2015 has been a lacklustre year, with not one Hindi film crossing the Rs 100 crore Rubicon so far, and on Khan's strong shoulders were riding Rs 300 crore worth of films. Among the films affected by Khan's incarceration are Bajrangi Bhaijan, Sooraj Barjatya's Prem Ratan Dhan Payo, Karan Johar's Shuddhi, Boney Kapoor's No Entry Mein Entry and YashRaj's Sultan, each one a potential blockbuster.
At 11.15 am, the court bailiff's voice rang out clear in the court-room, lines that one has heard many times in Bollywood films. 'Salman Khan, haazir ho.' The actor walked up to the dock, and stood facing Judge Deshpande.
Without any preamble, the judge cut to the chase. "I have found you guilty of all the charges and you were drunk when the accident took place." Words that must have caused Khan's world to crash around him. He looked in a state of shock, but did not show any expression as he quietly stood and heard the judge out. By 11.30 am it was all over for Salman Khan.
And no, unlike what television told you, neither Salman Khan nor any of his family members, broke down in the court-room.
His fate sealed, the only thing left to know was the quantum of sentence -- which was to be announced in the afternoon.
Khan's lawyer, Shrikant Shivade, who was asked to speak by the judge, pleaded before the court to look at the case of Alistair Pereira which was similar to Salman Khan's. "If you see that case, there is no punishment beyond three years," argued Shivade.
On November 12, 2006, a Mumbai youth, Alistair Pereira, in a drunken state drove his car over pavement-dwellers in Bandra, killing seven. The Supreme Court in January 2012 sentenced Pereira to three years' imprisonment.
Shivade continued arguing for one hour, stating how Salman Khan was doing impressive social work and how many people have benefited from his good deeds.
Next, prosecution lawyer Pradeep Gharat stood up to say, "SUVs have become death trap, we see young boys driving fast in a crowded place. They are aware they can cause death. Therefore, such persons must take a lesson from this case. In future no individual must dare to act in this way."
Gharat wound up in 15 minutes following which the judge said he would announce the quantum of sentence at 1.10 pm.
As soon as Judge Deshpande left the room, in a scene straight out of Bollywood, the room plunged into darkness with the lights going off, and the ceiling fans too stopped. As did the exhaust fans. Was it deliberate? Or was there a power failure, a rarity in Mumbai?
Now imagine a small room overflowing with people in the May heat, with just two windows to provide ventilation.
Journalists and lawyers soon started exchanging water bottles to beat the heat; those who were feeling queasy were offered chocolates.
Leaving the court-room was next to impossible with hundreds of people outside jostling to come in, with only the Mumbai police standing in their way.
Everyone inside the room was sweating profusely, including Salman Khan. Sohail Khan and Salman's sisters left the room, leaving behind Arbaz Khan and Atul Agnihotri to stay with the actor.
The duo were seen chatting with some media-persons, while Khan's assistant kept fanning them with a book. They sent for mineral water, which one of the assistants ran out to get for them.
By 1 pm there was still no sign of electricity resuming, but Alvira Khan returned and went straight to her brother. The two kept talking quietly in a corner.
At 1.30 pm, as everyone inside was perspiring and wondering what was going on, Judge Deshpande turned up to announce the sentence in his quick, no-nonsense manner.
"Five Years." Words that Salman Khan will not forget for a long, long time.
Image: A file photograph of Salman Khan with his father, script-writer Salim Khan. Photograph: Reuters.