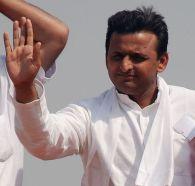 Amid a raging controversy over Rahul Gandhi's statement that Pakistani intelligence agencies had contacted Muslim youths in riot-hit Muzaffarnagar as part of their sinister designs, the Uttar Pradesh government on Friday denied having any such input from intelligence bureau.
"The state has not got any such input from intelligence bureau or any other agency," Secretary (Home), Uttar Pradesh, Kamal Saxena told reporters.
Saxena's statement comes a day after ADGP, Law and Order Mukul Goel said that UP police had no information about any such issue.
"We have no such information that some youths in Muzaffarnagar are in contact with intelligence agencies of Pakistan.. He (Rahul) might have got the information from somewhere..We will also get it verified," Goel had said.
Addressing a rally in Madhya Pradesh yesterday, Congress vice president Rahul Gandhi had said that Pakistani intelligence agencies are talking to the 10-15 Muslim youths whose relatives were killed in the Muzaffarnagar riots, to lure them to terrorism.