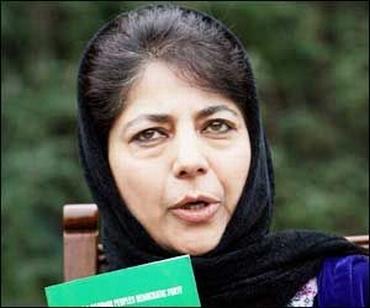 Peoples Democratic Party president Mehbooba Mufti on Saturday demanded that "fringe elements" acting in the name of Hinduism should be checked, drawing comparison with elements of Islamic State who misuse Islam.
"In our country tolerance is the strength of the country and if we don't stop this so-called fringe elements...What is happening in Syria, Afghanistan, Iraq... because those are also fringe elements who are misusing the name of Islam.
"So in our country there are fringe elements who are misusing the name of Hinduism and they also compare it with nationalism which is worse," she said while speaking at the HT Leadership summit.
Mehbooba, whose party PDP heads a coalition government with the Bharatiya Janata Party in Jammu and Kashmir, said Bihar elections had done a "great job" to the "fringe elements" who misused the name Hinduism comparing it with "nationalism".
The daughter of state Chief Minister Mufti Mohammed Sayeed was asked a question how does her party justify when noises including by some Union ministers of "go to Pakistan".
She said "the mentality is the same… it is the thought process that counts."
She referred to late Pakistani Prime Minister Z A Bhutto's quote who had said that India is thriving because of the chaos and noise of democracy.
"When people are trying to fight a battle with rising prices, don't get onions, and suddenly some people start dictating as to which meat should one consume? This is not done. This is not acceptable," she said.
To a question whether it was affecting the PDP-BJP alliance in the state which saw death of a young trucker being killed by such fringe elements, she said "the murderers have been booked and tough action has been taken. This is what counts. Statements can be there but at the end it's the action that counts."
As she settled down for the interaction, Mehbooba was asked a question about the possibility of her succeeding her father as chief minister, she replied, "I am not comfortable with this question please. I don't want to think about it. I am working for the people and will continue to do so."
Mufti also said the first point of her party's agenda of alliance with the BJP was that there will be no fiddling with Article 370, which gives special status to the militancy-hit state.
The PDP president sought to downplay growing concern of radicalisation of youths in Kashmir and said "Kashmiriyat, the Sufism culture of Kashmir is answer to everything. Kashmiris don't take diktats from anyone like women were asked to wear jeans, wear hijab and don't send your girls to school. The people in the Valley got their children educated in rest of the country."
"As far as the Islamic State and other things are concerned, it sounds very ridiculous. Some guys who had displayed IS flags were arrested. Imagine none of them knew what it was all about. It was only to catch the attention...it's easy to prop up a Pakistani flag which has now become old fashioned.
"So I think that the Sufism and Kashmiriyat that we have, will be there. IS is against very basis of Islam. They are destroying everything that Islam holds dearer. So I don't think that Kashmiris will ever follow what IS stands for. It stands for murder, rap," Mehbooba said.
About her party aligning with the BJP, she said the decision was taken by her father who wanted to respect the mandate of people of all three regions -- Jammu, Ladakh and Kashmir -- and moreover, he wanted to carry forward the peace initiatives started by former Prime Minister Atal Bihari Vajpayee and which were carried forward by his successor Manmohan Singh.
Asked whether Prime Minister Narendra Modi was following the Vajpayee's initiative, she said "with the passage of time, I think he is coming around it".
"There is no alternative to Vajpayee's initiative of reaching out to people of Jammu and Kashmir in which some where we have to accommodate Pakistan," Mehbooba said.
"India also needs to join hands with Pakistan, Afghanistan and Bangladesh in fighting terrorism. At the end, we have to understand that Pakistan is also a worst sufferer of terrorism," she said.
The PDP president said there can be no fiddling with the Article 370 as the state enjoys the special status.
"The state joined secular India when Hindu states were joining India and Muslim states were with Pakistan. We took a decision against the tide so we need to be treated specially.
"And we are happy that we took the decision as we got special status. Now what has been given cannot be taken back in bits and pieces as that amounts to stealing and dishonesty," she said while referring to questions about revoking of Article 370.
The idea of Jammu and Kashmir being part of the country has to go beyond the ownership of land. "People in India need to invest in Jammu and Kashmir's peace," Mehbooba said.