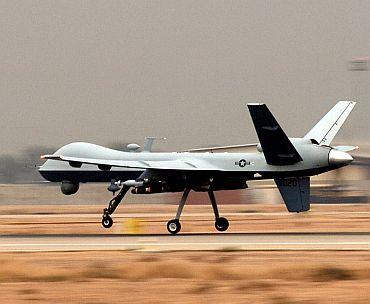 Pakistan has strongly denied a United Nations report that members of its government had given consent to controversial drone strikes in the country and demanded an end to such attacks which incite hatred.
Pakistan's Permanent Representative to the UN Ambassador Masood Khan told a UN general assembly rights committee debate yesterday that all drones strikes in his country are a "chilling reminder that reprisal strikes by terrorists are around the corner.
"They put all Pakistanis at risk. The psychological impact of the use of drones on the relatives of civilians killed in an inhumane manner incites sentiment and hatred and radicalises more people," he said adding that drone strikes are "counterproductive."
Khan's remarks came as special rapporteur on the 'Promotion and protection of human rights and fundamental freedoms while countering terrorism' Ben Emmerson submitted his interim report on the use of remotely piloted aircraft in counter-terrorism operations to the General Assembly.
In the report, Emmerson said there is "strong evidence" to suggest that between June 2004 and June 2008 drone strikes in Pakistan's lawless Federally Administered Tribal Areas were conducted with the "active consent and approval of senior members of the Pakistani military and intelligence service, and with at least the acquiescence and, in some instances, the active approval of senior government figures."
Khan rebutted Emmerson's claim saying, "let me also state authoritatively that no explicit or implicit consent, approval or acquiescence has been given by the government of Pakistan for the drone strikes."
He said use of drones violates Pakistan's sovereignty and territorial integrity.
"In the asymmetric terrorist war, the well established humanitarian principles of distinction, proportionality and precaution must be observed. This is not being done.
"There is also obvious geographical disjunction between the location of drone strikes and primary battlefield...It is not justifiable to launch strikes in the context of non-international armed conflict in the context of Pakistan-Afghanistan border area," he added.
Khan said there is no "grey" area in the use of armed drones when they kill innocent men, women and children.
"Killing unarmed, innocent civilians is a clear breach of international law. We call for the immediate cessation of drone attacks inside the territorial borders of Pakistan.
Khan further said that Pakistan does not agree with the Special Rapporteur that while the fact that civilians have been killed or injured does not necessarily point to a violation of international humanitarian law, it undoubtedly raises issues of accountability and transparency.
"We believe that civilian casualties as a result of the drone strikes do violate international humanitarian law, as well as international law and human rights law." Pakistan Prime Minister Nawaz Sharif had urged the US to end drone strikes during his meeting this week with US President Barack Obama in Washington.