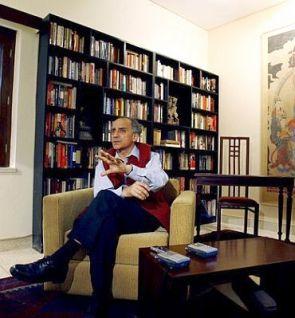 If bureaucrats are to implement the policies of the government, they would do so very efficiently if there is a prime minister who can "whip ministers and secretaries into doing their work", former Union Minister Arun Shourie said on Monday.
"If you really want bureaucrats to implement policies, they will very efficiently do so. You just need to have ministers who can take responsibilities, ministers who will apply themselves in detail and a prime minister who will whip the ministers and the secretaries into doing the work. Then you will have no difficulty," Shourie said.
He was speaking at the launch of the book 'Getting India Back on Track: An Action Agenda for Reform' in Mumbai.
Edited by Bibek Debroy, Ashley J Tellis, and Reece Trevor, the book contains analyses and prescriptions from some of India's most accomplished scholars on how to return the country to a path of high, sustained growth and international success.
Asked if Prime Minister Narendra Modi will reopen old cases of corruption, Shourie said even if a few ministers who are being tried in cases of corruption are put in jail, it will be a new beginning for India.
"There are already 20-30 politicians who are now before courts in corruption cases of various vintages. If 15 of them irrespective of parties can be put in jail for 7 years at a time, we have made a great beginning. Let's see how far he presses that point further," he said.
"The persons who dominate public discourse in India and in many ways dominate the decision making in India whether it is journalists or judges or civil servants or certainly politicians, they do not have that interface with industries, agriculture and other things. So, judgements are handed out, articles are written without that direct knowledge," he said.
The book, launched by Shourie in Mumbai, was last week launched by Prime Minister Narendra Modi in Delhi.