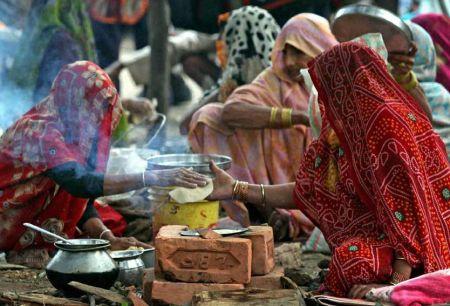 In a bizarre decision, the Bihar government has issued an advisory that there should be no cooking, puja or any other religious activity between 9 am and 6 pm in rural areas.
The move, the government says will help prevent incidents of fire which has increased abnormally high during the westerly winds this month.
Disaster Management principal secretary Vyasji said, "Summer is at its peak and accidents happen due to fire."
"The point is hundreds of lives are at risk. The order has only been given after a detailed survey on just how the fires started. The jail term is based on a law on disaster management," said Vyasji.
In a letter to all divisional commissioners and district magistrates, Vyasji said that the people living in the rural areas should finish cooking by 9.00 in the morning and start preparing their dinner only after 6.00 in the evening.
After facing floods and droughts for several years, Bihar is reeling under a different calamity this year: fire.
More than 60 people have been killed and property worth lakhs of rupees gutted across the state which is experiencing unprecedented heat wave these days