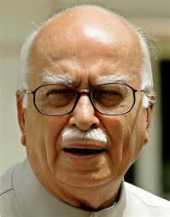 Amid growing clamour in the Bharatiya Janata Party to name Gujarat Chief Minister Narendra Modi as its prime ministerial candidate for 2014 Lok Sabha elections, veteran BJP leader L K Advani said on Saturday there was no competition in the party for the top post.

"There is no competition for the post of the prime minister within the party," Advani told reporters in Gandhinagar when asked about competition in the party for PM's post.
Advani, who came to attend a meeting of the district rural development agency in Ahmedabad, also predicted early Lok Sabha elections.
"The Lok Sabha elections may be held in 2013," he said, adding the Congress would not make any gains in the coming assembly polls in five states.
About the composition of the party's new parliamentary board and speculation as to who would be included in the new team to be announced by the party chief Rajnath Singh, he said, "The party president will take into account various factors."
The Gandhinagar MP also met Narendra Modi and discussed various issues, an official release by the state government said. It is believed that Modi and his close aide Amit Shah would be given wider national roles in the new set-up. Shah is an accused in the Sohrabuddin Sheikh fake encounter killing case, the trial of which is going on in Mumbai.
Meanwhile, Rashtriya Swayamsevak Sangh president Mohan Bhagwat and former Union minister Murli Manohar Joshi were also in the city to attend a national seminar organised by state unit of Bharatiya Vichar Manch to commemorate the 150th birth anniversary of Swami Vivekanand.