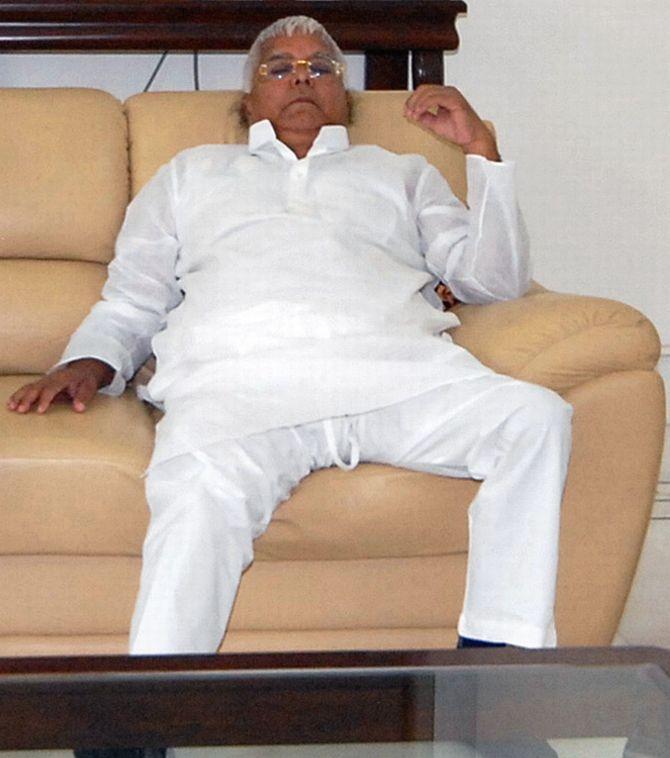 Rashtriya Janata Dal President Lalu Prasad on Monday hit the streets, accusing Chief Minister Nitish Kumar of luring his party MLAs and asserting that nine of the 13 legislators who reportedly broke away have denied parting ways.
Prasad marched to the assembly premises along with the nine MLAs as also five other RJD legislators and handed over a letter to Assembly Secretary Phool Jha, demanding that Speaker Uday Narayan Chaudhary withdraw the assembly notification recognising the breakaway faction as a separate group.
"After divorce with the BJP, Nitish Kumar has gone mad and is luring MLAs of rival parties with ministerial berths to save his minority government," Prasad said after a legislature party meeting at the residence of former chief minister Rabri Devi.
He also vent his anger at the Speaker for "acting in haste" to recognise the 13 as a separate group.
"He was a jail minister in my government. He has got the post of Speaker under the influence of the chief minister," Prasad said.
On their way, a few supporters, displaying banners and placards, accompanying the RJD supremo turned violent and hurled stones at the official residence of the Speaker.
Earlier at the airport, Prasad blamed Kumar for hatching a "conspiracy" with the Speaker to split the RJD.

"The whole world saw his conspiracy which went awry," he said.
Three more RJD MLAs, who were reportedly part of the rebel group that broke away on Monday, attended the legislature party meeting.With this, the total number of MLAs who remained with RJD went up to nine.
The Speaker rubbished the allegation levelled by Prasad and said the decision was lawful.
"I do not know who is saying what on television channels ... but the Assembly secretariat has taken a right decision," Chaudhary told PTI.
High drama unfolded in the RJD yesterday with claims that 13 of the 22 party MLAs have quit the party but six of them later claimed they are not part of the breakaway faction.
On Monday, all the 13 RJD MLAs were given permission to sit as a separate group in the Assembly after claims were made that they quit the party.
Prasad said he will address a press conference to apprise the media of the latest developments.
RJD has 22 MLAs in the 243-member Bihar Assembly.

In Delhi, Kumar said JD-U would welcome rebel RJD MLAs into its fold and rejected allegations that the Assembly Speaker worked at his behest by hurriedly giving recognition to the breakaway faction.
There are differences in the RJD and the party is "on the verge of a split", said Kumar who attended a meeting of non-Congress, non-BJP front.