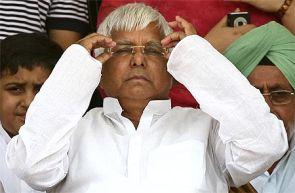 Rashtriya Janata Dal President Lalu Prasad Yadav on Monday downplayed reports of a split within his party even as he said that he was inquiring into the matter.
"I've heard about it. I am finding out what is happening," Lalu told reporters when asked to comment on reports that 13 of his party's 22 MLAs in Bihar had decided to ally with the ruling Janata Dal-United.
RJD sources said that the number of MLAs who were defecting was much lower than 13 with Lalu trying to contact each of them to prevent the split or at least contain the damage.
The 13 MLAs, including five Muslim MLAs, met at the Patna residence of party MLA Samrat Chaudhary and wrote to Speaker Uday Narayan Chaudhary that they were withdrawing their support to RJD and aligning instead with the Nitish Kumar government, MLA Javed Iqbal Ansari told PTI.
Assembly Secretary Phool Jha confirmed that a letter had been received from the 13 RJD members regarding their decision to leave the party.
As per their request, an interim arrangement has been made which will allow them to sit as a separate group in the Assembly, Jha said.
Samrat, son of senior RJD leader Shakuni Chaudhary, said, "It will be better for Lalu to merge the party with Congress instead of allying with it for Lok Sabha elections."
"The party which sent him to jail by tearing up an ordinance has become the ideal for Lalu, who is losing no opportunity to please its leaders," he told reporters.
Samrat had flown with the chief minister in a helicopter to Khagaria on Sunday to inaugurate a road bridge.
Image: Rashtriya Janata Dal President Lalu Prasad Yadav