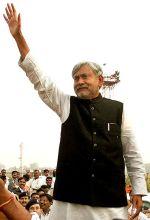 In a clear counter to Narendra Modi's development plank, Bihar Chief Minister Nitish Kumar on Sunday said his state would present the "real model" for progress which takes everyone along, while indicating that his support would be crucial for formation of next government at the Centre.
Addressing a party rally in the national capital, dubbed as a show of strength by Bihar's ruling party Janata Dal-United, Kumar said his state should be given special status as it is lagging behind in all aspects of development.
He also sought the Centre's assistance for development of all backward states in the country, asserting that only those who feel for such states will rule the Centre after 2014 Lok Sabha elections.
"We will leave everyone behind and move ahead with development. And we will present a model before the world. These days development model is being discussed. This model is what takes along everyone together. This is the real development model of India," the Chief Minister said, in an apparent reference to the 'Gujarat model' being touted by Chief Minister Narendra Modi.
"All the backward states should get their rights. We are not begging, special status is our right....We won't be quiet until we (Bihar) get special staus," he said.
Kumar's rally was held a fortnight after the central government proposed to change the parameters of determining backwardness of states, an announcement immediately welcomed by the chief minister, who interpreted it as a positive step towards realising the goal of special status for Bihar.
Finance Minister P Chidambaram's announcement in the budget in this regard and its immediate welcome by Kumar fuelled speculation of JD-U coming closer to Congress at a time when Modi's stocks appeared to be rising in BJP with whom Kumar's antipathy is well-known.