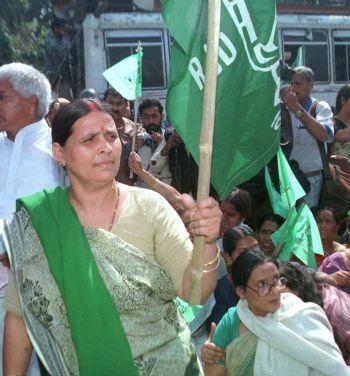 Bihar Chief Minister Nitish Kumar, and not Bharatiya Janata Party, is enemy number one for Rashtriya Janata Dal, party chief Lalu Prasad Yadav's wife Rabri Devi said on Wednesday.
The former chief minister also said that she will tour the villages across the state to inform the people that her husband was framed in the fodder scam conspiracy.

Upset over Lalu Prasad's conviction, Rabri Devi said that Nitish Kumar is her top most enemy in the state. She said nothing against BJP in this regard when asked by mediapersons as to whom she considers her enemy number one.

Rabri Devi also questioned that despite alleged involvement of Nitish Kumar and JD-U MP Shivanand Tiwari, why they were not made accused in the fodder scam case.
"We are eagerly waiting for the Ranchi high court hearing of a case in this connection on November 22," she said.

She made it clear neither she nor her two sons are keen for any post in RJD. "We are only interested in strengthening the party," she said.
Rabri Devi also justified the dominant role of her family members in RJD. "There is nothing new. Several parties across the country are running this way," she said.
Photograph: Rabri Devi
Image: Reuters