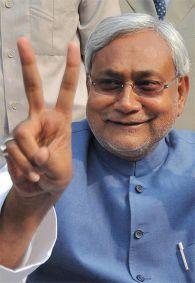 Congress on Tuesday taunted Narendra Modi over his "silence" on the conviction of Rashtriya Janata Dal chief Lalu Prasad in fodder scam case, claiming that the Gujarat chief minister is "not happy" since the order "suits" Bihar Chief Minister Nitish Kumar.
"Despite his four tweets of yesterday, Narendra Modi's silence on Lalu Yadav's conviction shows he isn't happy because it suits Nitish Kumar," party general secretary Shakeel Ahmed commented on Twitter.
Nitish Kumar's party Janata Dal-United had walked out of NDA breaking its 17-year-old ties with BJP on June 16, protesting against the elevation of Modi as BJP's campaign committee chief.
The chasm between BJP and JD-U widened all the more after Modi was named the prime ministerial candidate of the main opposition party.
That Modi and Kumar never shared a comfortable relationship for last few years is a well-known fact. After parting ways with BJP, JD-U had been alleging some sort of nexus between BJP and RJD in Bihar, which Lalu Prasad's party has been vehemently denying.
There is a perception in political circles that JD-U will gain from Prasad's conviction as it could affect the RJD supremo's support base.
There is also a growing indication of increasing warmth between Congress and JD-U with senior leaders from both sides indicating a possible tie-up after the next general election.
However, both the parties have officially downplayed the speculation about a Congress-JD-U alliance.
Rahul Gandhi's strong denunciation of the controversial ordinance on convicted lawmakers has also been interpreted in a section of Congress as the party Vice President's reluctance to be seen as protecting the RJD chief from the fallout of the case.
Ahmed is a senior party leader from Bihar, who was a minister in the RJD-Congress alliance government in the state.