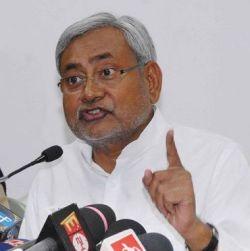 In a bid to put pressure on Governor Keshri Nath Tripathi to invite him soon to form the next government, Janata Dal-United leader Nitish Kumar on Tuesday announced that his party will parade 130 MLAs to the Rashtrapati Bhawan in Delhi on Wednesday.
"We will go to Delhi to meet President Pranab Mukherjee if we have not received any invitation to form a government from the Governor within 24 hours," Nitish Kumar told a press conference.
"I have requested that the President provide us time to meet him on February 11," he said.
Nitish Kumar, along with 130 legislators of his JD-U, the Rashtriya Janata Dal, the Congress and the Communist Party of India, marched to Raj Bhavan in Patna on Monday to show his strength and to stake claim to form the next government after meeting Governor Tripathi.
Kumar then said they will wait for the decision of the governor to invite him to take oath and form the next government.
But he warned that if the governor failed to invite him soon, he would parade their legislators before the president in Delhi.
According to JD-U leaders in Patna, the party has approached a private airline to block seats in two lots of 72 each in its evening flights Tuesday.
Kumar has reiterated that Manjhi is encouraging horse-trading.
"Delay on the part of the Governor to invite us to form the next government will provide opportunity to Manjhi for horse trading to prove majority," he said.
Nitish Kumar accused Manjhi of trying to organise defections to stay in power.
"It appears that Manjhi has got a horse-trading licence after he met Modi in Delhi," he said, referring to the chief minister's meeting in Delhi on Sunday with Prime Minister Narendra Modi.
Manjhi was hand-picked by then chief minister Nitish Kumar as his replacement when he quit last year after the JD-U's rout in the Lok Sabha polls.
In the 243-member assembly, the JD-U has 115 legislators -- most of who are reportedly with Nitish Kumar. It is backed by 24 legislators of the RJD, five of the Congress, two Independents and one from the CPI.
The Bharatiya Janata Party has 88 legislators and is supported by three independents.