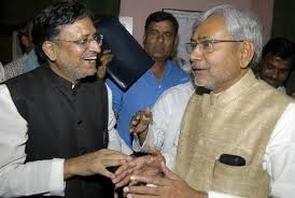 It's a day of hectic political activity in Bihar as the Janata Dal-United announced the end of its 17-year-old alliance with the Bharatiya Janata Party. Bihar Chief Minister Nitish Kumar has sacked all 11 ministers from the cabinet.

Addressing the media on Sunday along with JD-U chief Sharad Yadav, Kumar said, "Despite many requests BJP ministers did not attend the cabinet meet on Sunday. I have recommended the governor that 11 BJP ministers should be sacked from the cabinet for their indiscipline. I can't see how BJP ministers can stay within the ministry and not work," he said.
"I had called the cabinet meeting on a routine agenda. I got to know from media reports that the BJP members won't attend. They could not see the writing on the wall and were blaming us instead," he said.

The Bihar CM said that the JD-U was not responsible for parting ways with the National Democratic Alliance. "We have been forced to take this step," he said.

"Chahe iska parinam jo bhi ho, mujhe aur mere party ko iski chinta nahin hain (Whatever the consequences, my party and I are not worried)," Kumar said in chaste Hindi.

He said that the JD-U has decided not to compromise with its principles and not to bow before the "BJP's move to impose a leadership not acceptable to us".
BJP leaders will meet with their party seniors in New Delhi and decide on the next course of action. Kumar is however confident of sailing through the trust vote on Wednesday with the help of the four independent MLA's who have assured of support to the JD-U.

Image: BJP leader and Bihar deputy chief minister Sushil Kumar Modi with Chief Minister Nitish Kumar before the split