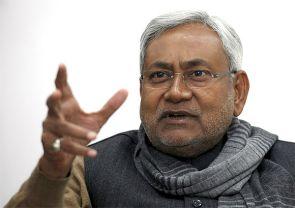 Bihar Chief Minister Nitish Kumar on Saturday voiced his displeasure at not being consulted over the appointment of senior Bharatiya Janata Party leader Ram Nath Kovind as governor of the poll-bound state while his party alleged there was an attempt by the Centre to "destabilise" the Janata Dal-United government.
Kumar said he got the information about the gubernatorial appointment through the media.
"As per the precedent so far, the central government, the home minister talks to the state government, its chief minister on it (appointment of Governor)... This time there is no consultation. I have also got the information (about the appointment) through media," Kumar told reporters here when asked about the appointment of Kovind.
Attacking the Centre, JD-U general secretary K C Tyagi said that Kovind's appointment without any discussion with the state chief minister goes against the spirit of cooperative federalism and alleged that the central government's move is against the recommendations of Sarkaria Commission.
"Such steps taken by the central government is nothing but an attempt to gain instantaneous political mileage. The central government is trying to destabilise the Bihar government. Janta Dal-United condemns such malicious practices of the central government," Tyagi said in a press statement.
Tyagi also recalled that BJP members in Parliament were on Friday demanding President Rule in Bihar.
"JD-U will hold talks with other opposition parties on Monday and would also demand for discussion in Parliament against the steps by the government to destabilise the system of cooperative federalism.
"The central government is also trying to create Constitutional instability even in other states like Uttar Pradesh, West Bengal and Assam," the JD-U general secretary alleged.
Kovind, 69, who had been a two-time Rajya Sabha member between 1994 and 2006, hails from Kanpur in Uttar Pradesh. His appointment came barely few months ahead of the assembly elections due in Bihar. West Bengal Governor Keshri Nath Tripathi was holding additional charge of Bihar.
The Centre also appointed Acharya Dev Vrat as the governor of Himachal Pradesh. Rajasthan governor Kalyan Singh was holding the additional charge of the state.