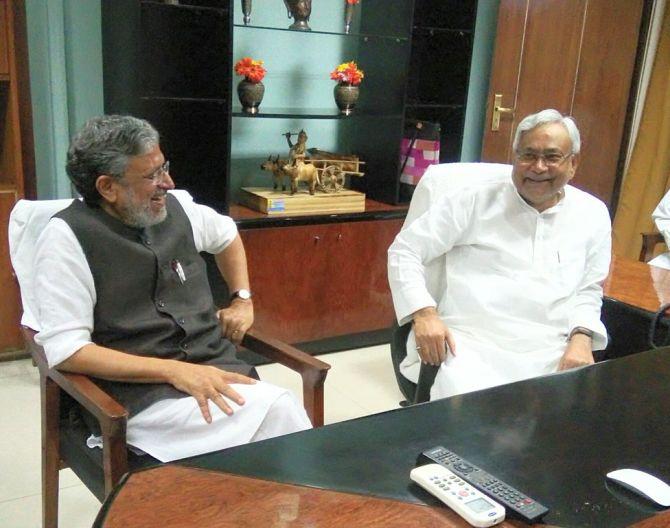 Bihar Chief Minister Nitish Kumar on Saturday expanded his Cabinet by inducting 27 new ministers from his Janata Dal-United and the Bharatiya Janata Party-led National Democratic Alliance.
The new ministers were administered the oath of office and secrecy at a function at the Raj Bhavan by Governor Keshri Nath Tripathi.
Only Kumar and Sushil Modi were sworn-in as the chief minister and the deputy chief minister on July 27 and the ministry was expanded a day after the new JDU-NDA government won the confidence vote in the Bihar assembly.
In the 243-member House, a maximum of 37 ministers are allowed as per the constitutional provisions.

Why Nitish refused to induct new ministers from two NDA members?

Even as Bihar Chief Minister Nitish Kumar inducted 13 National Democratic Alliance members in his Cabinet, he refused to include members from the Rashtriya Lok Samta Party and the Hindustani Awam Morcha, two other members of the NDA.
"Nitish Kumar has a strong reservation against RLSP chief and Union minister Upendra Kushwaha, who had repeatedly attacked him and HAM chief and former Bihar CM Jitan Ram Manjhi," a Janata Dal-United leader, close to Nitish Kumar told Rediff.com.
"As far as Manjhi is concerned, Nitish hasn't forgotten how the Dalit leader ditched him when he was made the CM. Nitish told BJP leaders that he will not induct minister from these two parties," he added.
-- M I Khan in Patna
Vijendra Prasad Yadav of the JD-U was the first to take oath followed by the BJP's Prem Kumar, who was the Leader of the Opposition in the previous the JDU-RJD-Congress government.
Others who took oath included the JD-U's Rajiv Ranjan Singh Lallan and the BJP's Nand Kishore Yadav and Manju Verma.
Mangal Pandey of the BJP, who was also party in-charge of Himachal Pradesh, could not come on time for the oath-taking.
While 14 from the JD-U were made ministers, the NDA's share was 12 from the BJP, one from the LJP -- Pashupati Kumar Paras, a brother of Union minister Ramvilas Paswan.
The RLSP and the HAM, the two other NDA allies, went unrepresented.
Besides Kumar, Deputy Chief Minister Sushil Kumar Modi, LJP chief Ramvilas Paswan and the Speaker of the Bihar Assembly Vijay Kumar Choudhary attended the swearing-in function.
Kumar had on July 26 dumped the previous ministry comprising the JD-U, the RJD and the Congress and joined hands with the BJP to form the new government.