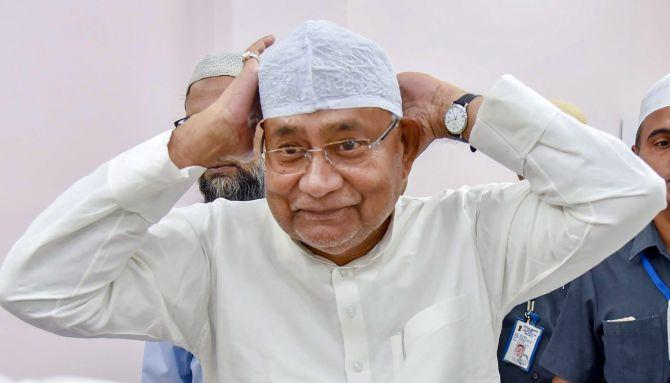 A day after the Janata Dal-United demanded that Bihar Chief Minister Nitish Kumar be projected as the Bharatiya Janata Party-led National Democratic Alliance's face in Bihar fro the Lok Sabha polls next year, the JD-U president on Monday declined to comment on the issue.
Earlier in the day, Bihar Deputy CM and BJP leader Sushil Kumar Modi said Nitish is the ruling alliance's leader in the state and the NDA will seek votes in the 2019 Lok Sabha polls in the name of the JD-U chief and Prime Minister Narendra Modi's works.
"This is a special occasion when I would like to see happiness on all faces. Please do not ask about any other face right now," Kumar quipped in response to queries by reporters.
The journalists gathered at his official residence of the chief minister to attend the Iftaar organised by him.
When pressed further, he said, "All your queries would be answered at an appropriate time. Right now, let us pray that the holy month of Ramzan brings peace and prosperity to Bihar."
The JD-U has asserted that the chief minister is the face of the NDA in the state, which is being speculated as an indirect demand for greater share of seats in the parliamentary polls.
Out of the 40 Lok Sabha seats in Bihar, the BJP has 22 in addition to nine others held by allies like the Lok Janshakti Party and the Rashtriya Lok Samata Party.
The BJP and JD-U fought separately in the 2014 general election.
The JD-U registered victories in only two seats but has the largest number of MLAs among all coalition partners in the state assembly.
"May the followers of all religions live together in peace and may mutual respect flourish. Let us also pray that our state, which suffers the wrath of nature almost every year, does not face drought or floods", Kumar added.
A host of dignitaries, including state Assembly Speaker Vijay Kumar Chaudhary, Deputy Chairman of Legislative Council Haroon Rashid, Deputy Chief Minister Sushil Kumar Modi and cabinet ministers Nand Kishore Yadav and Mangal Pandey attended the Iftaar.