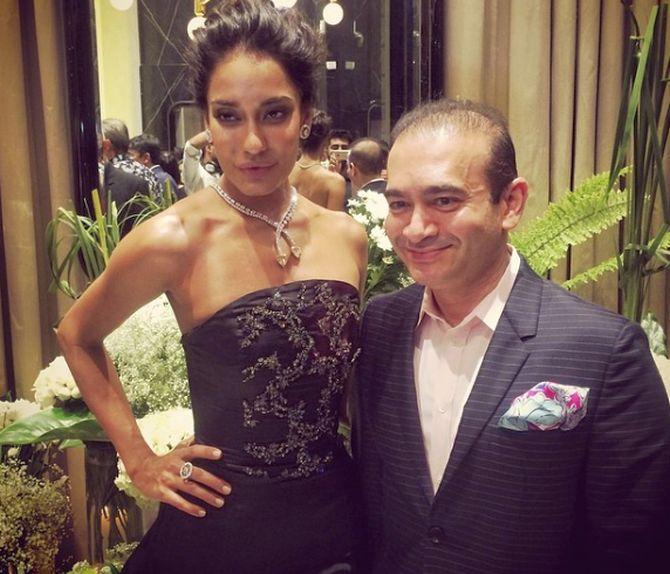 Bharatiya Janata Party president Amit Shah on Tuesday hit out at Congress for targeting Prime Minister Narendra Modi over scam-tainted designer jeweller Nirav Modi being photographed with him and others at Davos, saying it was cheap politics to make an issue of snaps taken at a public function.
"Photographs (Nirav Modi Davos photo) mean nothing. Even you people are sitting with me and we being photographed and if somebody does anything will I be linked?" he told reporters.
Taking a jibe at the prime minister in the background of the Punjab National Bank fraud, Congress president Rahul Gandhi had said "being seen with the Prime Minister (in a photo at Davos) helped the businessman flee the country."
In a tweet last week, he had said: "Guide to Looting India by Nirav MODI. 1. Hug PM Modi 2. Be seen with him in DAVOS Use that clout to: A. Steal 12,000Cr B. Slip out of the country like Mallya, while the Govt looks the other way. From1MODI2another."
Taking exception, Shah retorted: "What kind of talk is this. In public life at a function if some one sits, this type of photo being made an issue, it is cheap politics."
"It (allegation suggesting proximity to prime minister based on the photo) is completely baseless...," he said.
He was reacting to Gandhi's reference to the photograph taken during the recently concluded World Economic Forum meet at Davos, Switzerland.
Shah asserted that the government had taken "strict action" in the bank fraud case.
He said more than Rs 5,000 crore worth assets had been seized within three days after the fraud surfaced and that investigation was on.
"They (authorities) have worked towards getting back a large sum of money. They will take strict action," Shah said.
To a question on the Prime Minister's Office receiving a complaint against Nirav Modi, Shah said, "in January or February, I don't remember... an FIR was registered against Nirav Modi by the bank and this is the factual position."
Nirav Modi is facing charges of defrauding the Punjab National Bank and others in the Rs 11,384 crore scam and is now abroad.
The BJP president is on a three-day campaign tour of the coastal Dakshina and Uttara Kannada districts in poll-bound Karnataka.