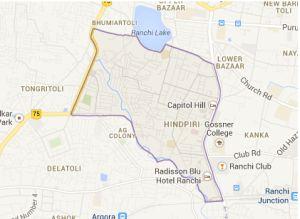 In the backdrop of alleged involvement of a 'Ranchi module' of Indian Mujahideen in the October 27 serial blasts near a Bharatiya Janata Party rally in Patna, police on Monday recovered nine live bombs matching those found in Patna from a lodge at Hindpiri in Ranchi.
Additional Director General of Police S N Pradhan said the explosives were recovered by local police, who have been following a lead for the past two days.
Police also seized 19 gelatin sticks and two clocks fitted to the bombs, Inspector General of Police (Zonal) M S Bhatia said.
Each bomb consisted of three pipe elbows, he said, adding the explosives were recovered from a booked room in the lodge.
The recovery of the bombs comes close on the heels of the arrest of Ujjair Ahmad from Doranda locality here on October 30 in connection with the Patna serial blasts.
Another accused Imitiaz Ansari arrested in connection with the Patna blasts also belongs to Ranchi, while the prime suspect Ainul alias Tarique who died at Indira Gandhi Institute of Medical Sciences hospital in Patna on October 31 night following fatal injuries, hailed from the Jharkhand capital as well.
A total six people, including Tarique were killed in the serial blasts which left more than 80 injured.
Police had earlier claimed that Indian Mujahideen had set up a 'Ranchi module' and had sent a proposal to Jharkhand government urging sanction in setting up an anti-terrorist squad to contain terror acts.
Image: A Google map of Hindpiri, Ranchi