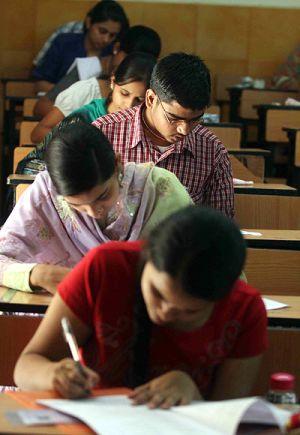 Nine candidates, including three women, from Jammu and Kashmir have qualified the prestigious UPSC Civil Service examination, the results of which were declared on Saturday.
The UPSC declared a total of 1,236 candidates successful across the country.
Deeba Farhat from South Kashmir's Bijbehara town and Ruveda Salam from North Kashmir's Kupwara district are the two women from the Valley to figure in the list, besides Jammu-based Pryati Sharma.
Other candidates who made it to the list from the state are -- Baseer-ul-Haq, Afaq Giri, Choudhary Muhammad Yasin, Athar Aamir-ul-Shafi Khan, Irfan Hafiz and Ankit Koul.
This is for the sixth consecutive year that youths from Jammu and Kashmir have figured prominently in the UPSC list. In 2013, Ruveda Salam became the first woman from Kashmir to crack the IAS examination.
Baseer-ul-Haq topped the list of candidates from the state with rank 46, while Pryati Sharma is ranked 136.
Ankit Koul was ranked 414th, Afaq Giri ranked 457th, Chaudhary Muhammad Yasin ranked 459th, Deeba Farhat ranked 553th, Athar Aamir-ul-Shafi Khan ranked 560th and Irfan Hafiz ranked 1183th.
Ruveda Salam reappeared this year and was ranked 878 in the results.
Eldest among three siblings, Deeba lost her father in a road accident when she was in primary school. Her mother, a government employee, has been supporting the family ever since.
Sharing her inspirational story, the engineering graduate said, "My mother always wanted to see me on top and I dedicate this success to her and also to my late father."
Deeba secured a place in M Tech. However, she decided to drop out and qualified Kashmir Administrative Services in 2012. She has been working as an Accounts Officer at the District Rural Development Agency's Anantnag chapter.
But her quest for excellence did not stop there. She decided to work hard and opted for IAS.
But her preparations were hampered because of the last year's floods which damaged her house and study materials.
"I appeared in the examination half prepared. I got only a month to prepare as our house was flooded and we have been living at my grandmother's place ever since," she said.
She lost all her books, certificates and other important documents during the floods.
"One thing I did not lose was the belief that I can achieve more. And though I qualified the exams, I intended to have another shot at the coveted examination and try to better my rank the next time around," she said.
Passionate about Urdu literature and poetry, Deeba had opted for Urdu in the civil services despite being a science graduate.
"I have only studied Urdu till Secondary level only but I always loved reading Urdu literature and poetry. I am particularly fond of reading Alama Iqbal and Mirza Ghalib," she said.
"Success depends on how committed you are towards achieving your goal. The commitment to qualify competitive examinations has to be total. It is difficult but then it's not impossible," she said.
Incidentally, Deeba's first posting after she cracked KAS was at her mother's office, as her boss.
Belonging to a middle-class family, 33-year-old Baseer and son of a non-gazetted employee in Public Health Engineering Department, qualified the exam in the third attempt.
Already a Kashmir Administrative Services officer, Baseer is presently posted as Block Development Officer Khari, Ramban. He had cracked KAS exam in 2013.
After achieving his B.Tech and M.Tech in Computer Science, Baseer opted for Urdu literature for the UPSC exam.
"I wanted to be an IAS officer right since my childhood," he said, adding that his family was a great source of inspiration.
Athar, 22, a resident of Devipora village in Mattan area of South Kashmir's Anantnag district is the youngest of the lot.
Son of an Economics lecturer, Athar has cracked CET, AIEEE, BITSAT and almost all major entrance exams that he appeared for.
He had even joined Government Medical College Jammu but decided to pursue his dream of studying in an IIT.
He completed Engineering from IIT Mandi in Himachal Pradesh in July last year and this year succeeded in qualifying the IAS examination in the first attempt.
"I believe right guidance, hard work and commitment is a must. Besides that, parental support plays a key role in achieving a target," he said.
Hailing from the frontier Kupwara district of North Kashmir, the first woman from the Valley to crack services, Ruveda Salam, is the incumbent Indian Police Services officer.
Daughter of a former broadcaster, Ruveda first graduated as a medical doctor and then qualified the KAS exam.
Before joining Indian civil services, she was working as a senior officer in the state government.