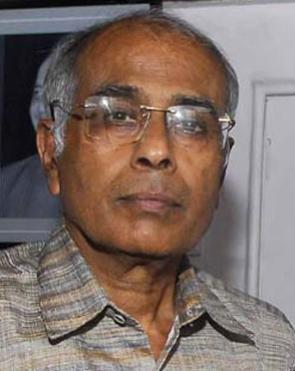 The National Investigation Agency on Tuesday informed the Bombay high court that it cannot probe into the murder of anti-superstition activist Dr Narendra Dabholkar as the offence fell under the Indian Police Code and was not covered under the purview of NIA Act.
Dabholkar, who spearheaded anti-superstition movement, was shot dead on August 20 by unidentified assailants in Pune. NIA counsel F R Shaikh informed a bench headed by Justice P V Hardas that 220 policemen were engaged in investigating the murder of Dabholkar and statements of 600 witnesses had already been recorded in this case.
The court was hearing a public interest litigation filed by ex-scribe Ketan Tirodkar seeking investigation by a Central Agency into Dabholkar's murder.
An affidavit, filed by Suhas Warke, superintendent, NIA, said prima facie it was a case of murder which fell under IPC and was being probed by police. Under the NIA Act, the agency can probe only scheduled offences such as those falling under Unlawful Activities (Prevention) Act.
"The NIA Act, 2008, constituted an investigating agency at national level to investigate and prosecute offences affecting sovereignty, security and integrity of India and its states," reads the affidavit.
The PIL alleged that the murder was the handiwork of Hindu right wing activists and that the government has been very slow in prosecuting them.
The NIA contended that the PIL was based on a presumption on the role of Hindu activists in the murder, and is not based on law and facts, and hence would not bring the offence under the purview of scheduled offences specified under the NIA Act such as UAPA.
The PIL, on the other hand, argued that the offence of Dabholkar's murder was covered under Section 15 of UAPA and hence the NIA be directed to probe this case.
Tirodkar argued that the high-profile case attracts provisions of UAPA, and hence the probe should be transferred to the NIA, which often deals with matters under the Act giving special powers to security agencies.
Accusing the Pune police of carrying out a "flawed" probe, the PIL said Dabholkar was receiving threats for quite sometime and the state government was aware of this. The police could have prepared a threat perception report on their own.
The government need not wait for the person's approval for providing him/her with adequate security, it added. The PIL claimed that the Pune police had come across some information about possible involvement of astrology practitioners, against whom Dabholkar was about to start an agitation. It is suspected these people were in touch with right-wing extremists who often blamed Dabholkar for hurting religious sentiments of a particular community, the petition maintained.