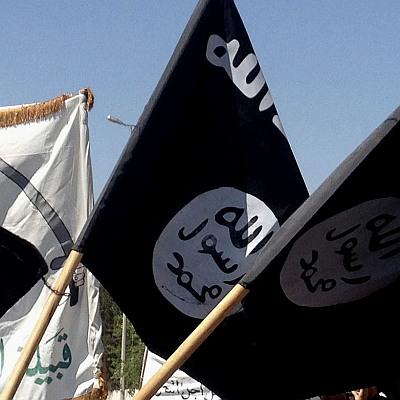 The NIA detained a Tamil Nadu man for suspected links with the Islamic State. A Ganesh Nadar/Rediff.com reports.
Close on the heels of the arrests of six alleged Islamic State sympathisers in Kannur and Kozhikode in Kerala on Sunday, a National Investigation Agency team picked up a man from Tirunelveli in the early hours of Monday.
The NIA detained 31-year-old H Subuhani from Kadayanallur for plotting terror activities. Another suspect was picked up from Coimbatore.
The two people arrested in Tamil Nadu were part of a WhatsApp group that was planning attacks in India to support the Islamic State.
The detention was in connection with the NIA's ongoing investigation into the disappearance of 21 people from Kerala who are believed to have joined the Islamic State.
Kadyanallur is a predominantly Muslim town and Subuhani was employed at the largest shop in the town's busy gold bazaar.
The shop owner said that he had sacked Subhuhani 20 days ago as he was uncooperative with the other employees. "Subhuhani's temperament was not amiable," the owner said. He added that Subuhani had been working for three months with him.
Relatives say that Subuhani was born in Kadayanallur and had gone to Kerala because the family had business there. His shocked wife fell ill after his detention and has been admitted to a hospital.
His family says his only mistake was making friends on Facebook who he had never met. He had been detained because he was part of the WhatsApp group that the NIA had been tracking.
"Chatting on the internet is no crime," his brother-in-law told Rediff.com. He added that 60 per cent of the questioning was over and Subuhani had not done any harm to anyone. His brother had met him in Cochin where he was being questioned. The NIA had promised that he would be released the next day if the rest of the investigation went well.
Subuhani's brother-in-law insisted that although the WhatsApp group had planned attacks Subuhani had not done anything.
Though the six arrested in Kerala have been remanded till October 14, the two from Tamil Nadu have not been produced in court yet.
The brother-in-law said that once he came out of jail, he would sue the police for wrongful confinement.
People in the town said that though there had been lots of communal activity in the state in the last two decades, Kadyanallur had always been an oasis of peace. "The media has spoilt our name beyond belief. Subuhani has not even been officially arrested but they have already named him a terrorist and have also made it out as if Kadyanallur is a hub of terrorists' activity," some locals said.
Also read:
Kerala's Missing: 'They became extremely religious'
Nimisha became 'Fathima' and disappeared