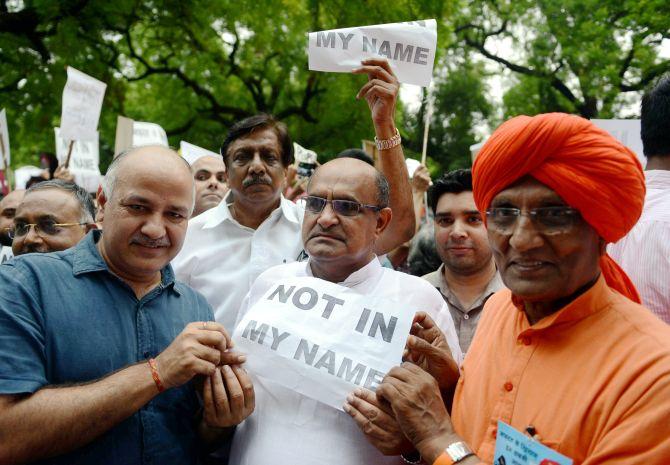 The National Green Tribunal on Thursday banned all protests and dharnas around the historic Jantar Mantar area in New Delhi, which has been a hotspot of many agitations over the past decades, saying such activities violate environmental laws.
The green panel said the State has totally failed to protect the right of enjoying pollution-free environment of the citizens living in the Jantar Mantar Road area, close to Connaught Place in the heart of the city.
It said it was the duty of the State to ensure that the rights of the people to live a peaceful and comfortable life are not infringed by those who create noise pollution in the name of their right of freedom of speech and expression, which can never be unlimited.
A bench headed by Justice R S Rathore also directed the New Delhi Municipal Council to remove all make-shift and temporary structures, loud speakers and public address systems from the stretch of the road.
The municipal body was also directed to remove the garbage lying in the area and clean it within four weeks.
The tribunal directed the authorities to shift the protesters, agitators and the people holding dharna (sit-in) to alternative site at the Ramleela Grounds in Ajmeri Gate, 'forthwith'.
"It is amply clear that the petitioners are suffering because of gross violation of laws, air pollution and health hazards due to lack of cleanliness and non performance of duty by the authorities of the state which is endangering their life.
"The environmental condition at Jantar Mantar Road in relation to noise pollution, cleanliness, management of waste and public health has grossly deteriorated. Besides, constant dharna, slogans, noise pollution, health problems due to unhygienic conditions generated by the agitators round-the-clock, is unique in the instant case," the bench, also comprising expert member S S Garbyal, said.
The NGT ordered the NDMC chairman, police commissioner and the Delhi government to file compliance reports within five weeks from Thursday.
It said the people participating in protests and raising slogans through loudspeakers have no right to compel the petitioner and others living in the area to listen to and tolerate it day and night.
"The locality has completely changed, where one finds that men, women and children are bathing, washing their clothes under Delhi Jal Board tankers and the situation becomes worse when the people are seen defecating in the open, on pavements, which creates a totally unhygienic situation on the entire road," the bench said.
Due to the continuous activity of the protesters for a number of years, the site has virtually become hell for the residents of the locality who cannot sleep at night, face noise pollution during the day, having difficulties to enter their house, the bench said.
The NGT's verdict came on a plea filed by Varun Seth and others alleging that processions and agitations held by social groups, political parties, NGOs at the Jantar Mantar Road were a major source of noise pollution in the area.