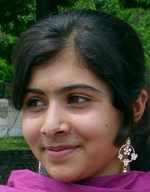 Teenage rights activist Malala Yousufzai, shot in the head during an assassination attempt by the Taliban, continues to be on ventilator in a military hospital and the next 48 hours were critical for her recovery, a military spokesman said on Friday.
"According to neurosurgical and intensive care specialists, Malala's condition is satisfactory but the next 36 to 48 hours are critical," Maj Gen Asim Saleem Bajwa, head of the Inter-Services Public Relations, told a news briefing in Rawalpindi.
Bajwa said the 14-year-old girl continued to be on ventilator at the Armed Forces Institute of Cardiology in Rawalpindi, where she was airlifted from Peshawar on Thursday. He described the shifting as "difficult" but said it was completed successfully.
Fresh tests and medical investigations were conducted after Malala was admitted to the hospital in Rawalpindi.
A board of experts and doctors will continue supervising her treatment and reviewing the situation round the clock, Bajwa said.
Malala was seriously injured on Tuesday when two militants shot her inside a school bus in Swat, a former Taliban stronghold located 160 km from Islamabad.
The banned Tehrik-e-Taliban Pakistan claimed responsibility for the attack, saying Malala was targeted for backing "pro-West" views and Western cultures and for supporting a secular government in Swat.
The girl was shifted from a military hospital in the northwestern city of Peshawar on the directions of a panel of military and civilian doctors because the intensive care facilities in Rawalpindi are better, Bajwa said.
"On this auspicious Friday, the whole country is praying for her health. We pray to Allah for her speedy recovery," the chief military spokesman said.
Masood Kausar, the governor of the northwestern Khyber- Pakhtunkhwa province, said that Malala was "not yet out of danger despite an improvement in her condition".
Reports have said she is yet to regain consciousness and that parts of her brain may have been damaged.
Authorities have put on hold plans to send Malala abroad for treatment after doctors said it would not be advisable for her to undertake a long journey.
The attack on the girl, who emerged as an unlikely champion of the rights of children by blogging about the atrocities of the Taliban in Swat in 2008, has been condemned by Pakistani and world leaders, including United States President Barack Obama.