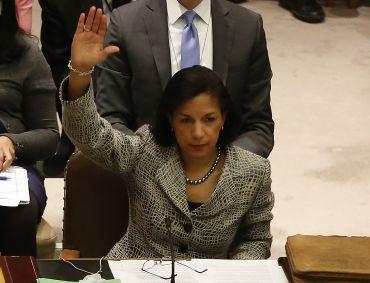 The new sanctions imposed on North Korea by the United Nations Security Council would bite hard, US ambassador to the UN Susan Rice said on Thursday after the passage of an unanimous resolution in this regard.
"Taken together, these sanctions will bite and bite hard. They increase North Korea's isolation and raise the cost to North Korea's leaders of defying the international community," the US ambassador told reporters at the UN headquarters in New York.
"The entire world stands united in our commitment to the denuclearisation of the KoreanPeninsula and in our demand that North Korea comply with its international obligations. If it does not, then the Security Council committed today, in this resolution, to take further significant measures if there is another nuclear test or missile launch," she said.
Rice said North Korea will achieve nothing by continued threats and provocations.
"These will only further isolate the country and its people and undermine international efforts to promote peace and stability in Northeast Asia," she said in response to a question," she said in response to a question.
"We have urged the North Korean leadership repeatedly-and continue to do so-to heed President Obama's call to choose a path of peace and to come into compliance with its international obligations. That is what North Korea ought to do," she said.
The resolution, unanimously passed by the Security Council, imposes tough new financial sanctions. The resolution was jointly drafted by the US and China.
"When North Korea tries to move money to pay for its nuclear and ballistic missile programs, countries must now block those transfers, even if the money is being carried in suitcases full of bulk cash," she said.
Likewise North Korean banks will find it much harder to launder money for its nuclear programme.
"Today's resolution also imposes new travel restrictions. If, for example, a North Korean agent is caught making arms deals or selling nuclear technology, countries will be required to expel that agent. Countries must also now prevent the travel of people working for designated companies involved in the nuclear and missile programs," Rice said.
Rice said countries will now have new authorities to inspect cargo and stop North Korean arms smuggling and proliferation.
"If a country has cargo on its territory that might be carrying prohibitive items, like conventional arms or nuclear or ballistic materials, this resolution requires that the cargo be inspected," she said.
"It will also make it harder for North Korean vessels to offload such prohibited cargo if a ship refuses inspection on the high seas, thus forcing it to return to its port of origin. And airplanes carrying smuggled items can find themselves grounded," she said.
Rice said that the resolution will also counter North Korean efforts to abuse diplomatic privileges to advance its nuclear and ballistic missile activities.
"It will now be much harder for such diplomats to procure technology or divert funds to the nuclear program without being detected and expelled. Resolution 2094 further bans the transfer to and from North Korea of specific ballistic missile, nuclear, and chemical weapons-related technology," she said.
Image: US ambassador to the United Nations Susan Rice votes to tighten sanctions on North Korea at the United Nations Headquarters in New York, on Thursday
Photograph: Brendon McDermid/Reuters