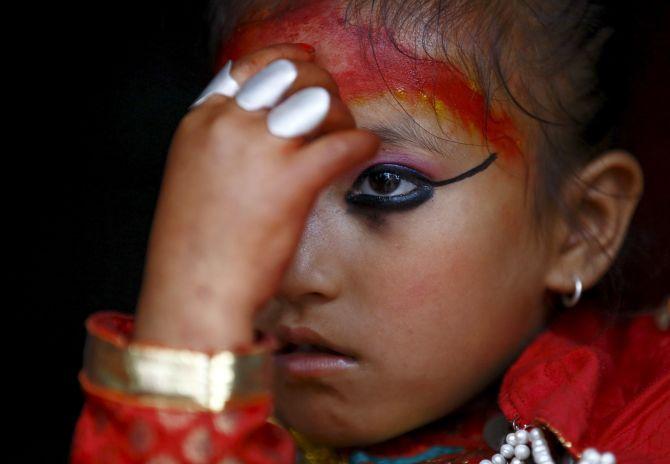 Living goddess Kumari of Bungamati observes the chariot festival of Rato Machhindranath at Bungamati in Lalitpur. Photograph: Navesh Chitrakar/ Reuters
When the deadly earthquake battered Nepal last week, major temples in Kathmandu' Darbar Square were razed to the ground, but the home of a nine-year-old girl worshipped as a living goddess remained almost unscathed.
Kumari, the city's living child goddess, is the prominent of the girls who are worshipped as the symbol of the fearsome Hindu goddess Durga until they reach puberty after which they are replaced.
As the earth started shaking on April 25 just before noon, most of the ancient structures in the Square collapsed but the living goddess' small palace just got a few cracks.
The families of the previous Kumaris who also reside in the courtyard did not run away to safer places, believing that the child goddess "will save them from her powers."
"If the reigning Kumari assured us about our safety, we knew that we would not be hurt," the mother of a previous Kumari told the Nepali Times.
"We believe that it was her powers that might have protected the place," said a member of one of the dozen-strong family that guards the child goddess revered by Nepal's Hindus.
Kumari, a pre-pubescent girl selected from the Shakya caste or Bajracharya clan of the Nepalese Newari community, lives in isolation in her small palace and emerges only on feast days when she is paraded in ceremonial dress.
The 7.9-magnitude quake claimed nearly 6,624 lives with another 14,025 people injured and left a trail of devastation and suffering in the Himalayan nation.