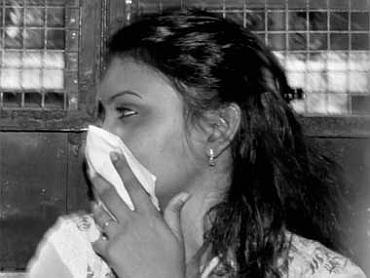 Kannada actress Maria Susairaj, sentenced to three-year jail term in the murder case of television executive Neeraj Grover was released from Byuclla jail on Saturday.
The sessions court on Friday sentenced her to a maximum three years' imprisonment for destroying evidence in the murder case. She has already served this sentence during trial. So, after all the paperwork and formalities was completed, she was released.
Susairaj will hold a press conference later in the evening. She wants to talk to the public, said her lawyer Sharif Shaikh. He also dismissed reports of her moving out of the city. "Maria is staying in Mumbai," he said.
Susairaj's former fiancee, Emile Jerome Mathew, has been sentenced to 10 years in prison for killing Grover in May 2008. And three years for destroying evidence.
According to the prosecution, Jerome had gone to Maria's residence in suburban Malad on May 7, 2008 where he got into a fight with Grover, 26, during which the naval officer stabbed the victim to death. Susairaj and Jerome later cut the body of Grover into pieces and disposed it of in Manor forest in neighbouring Thane.