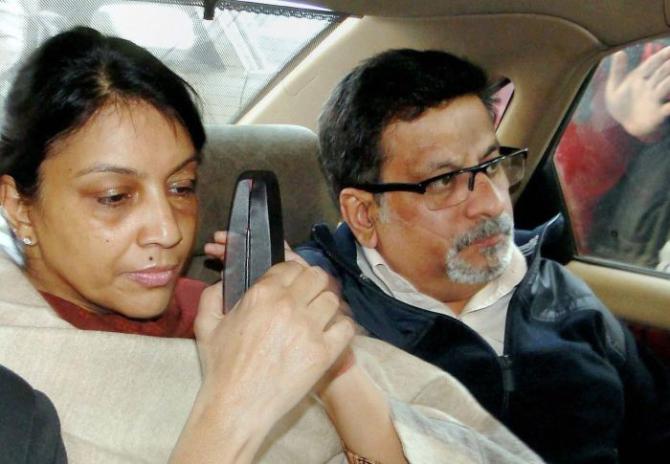 Additional Director General of Border Security Force Arun Kumar, who had headed a Central Bureau of Investigation team into the Aarushi Talwar murder case, on Thursday called for a review of criminal justice system following the acquittal of the Talwar couple by the Allahabad high court.
The CBI team under Kumar had concluded that Aarushi and domestic help Hemraj were murdered by Krishna Thadarai- help at Talwar's clinic, his friend Rajkumar-- a domestic servant with Praful and Anita Durrani who were Talwars' friends, and Vijay Mandal, driver of Talwars' neighbour.
The findings, however, were trashed by then CBI director Ashwani Kumar who found holes in the investigation by Arun Kumar.
"It is a well-discussed case. Subject to the confirmation of the court (about Talwar couple being innocent), think of the family and what has happened to them. Let us review our criminal justice system," Arun Kumar told PTI.
He said nobody should face what the Talwars had faced.
'#AarushiVerdict My only concern is how do we ensure that this is not repeated with any other case! It was worth pursuing the truth,' the ADG BSF wrote on Twitter after the verdict.
The Allahabad high court on Thursday acquitted Nupur and Rajesh Talwar in the 2008 murder of their teenage daughter Aarushi and domestic help Hemraj, saying that neither the circumstances nor the evidence was enough to hold them guilty.
The verdict ends, at least for now, the nine-year ordeal of the Noida couple who were sentenced to life by a Ghaziabad CBI court on November 28, 2013 for the double murder that not only transfixed but also shook the nation with its element of filicide.
Aarushi was found dead inside her room in the Talwars' Noida residence with her throat slit in May 2008. The needle of suspicion had initially moved towards 45-year-old Hemraj, who had gone missing but his body was recovered from the terrace of the house a day later.
Photograph: PTI Photo