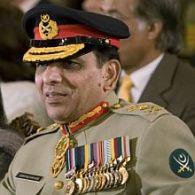 Prime Minister Nawaz Sharif plans to name Pakistan's new army chief weeks before Gen Ashfaq Parvez Kayani's term ends in November to quell speculation about the issue, according to a media report on Monday.
Sharif's move is aimed at quashing an ongoing guessing game about Kayani's successor and ensuring a smooth transition at a time when the military is fighting militants on many fronts, The Express Tribune quoted its sources as saying.
"Consultations have already begun to choose Kayani's successor. The government will not wait until November 28. The decision will come much earlier than the cut-off date," said an unnamed close aide to the premier.
Kayani, 61, was appointed the army chief by former military ruler Pervez Musharraf in 2007. He was given an unprecedented three-year extension by then premier Yousuf Raza Gilani in 2010 and is set to retire on November 28.
The revelation by one of Sharif's close aides corroborates an earlier statement by senior PML-N leader Raja Zafarul Haq, who recently told reporters the government would soon complete consultations over appointing a new army chief.
Siddiqul Farooq, the spokesman for the ruling PML-N, only said a decision would be taken at an "appropriate time".
The appointment of the next army chief has gained wide attention in view of past difficulties faced by civilian governments in appointing persons to the coveted military post.
The previous government led by the Pakistan People's Party had a chance to appoint a new army chief in November 2010 but instead opted to extend Kayani's tenure.
The PML-N's decision regarding the new army chief is under the scanner because of the party's "close yet troubled ties" with the powerful military establishment, which was twice involved in ousting Sharif from power, the report said.
Critics argue that during the previous two appointments by Sharif, Gen Waheed Kakar in 1993 and Gen Pervez Musharraf in 1998, the premier preferred loyalty over merit.
Recent public pronouncements by Sharif reflect a growing realisation that he made a mistake in ignoring merit while making the crucial appointment.
If the principle of seniority is strictly adhered to, Lt Gen Haroon Aslam, currently Chief of Logistics Staff, will be the senior most general when Kayani steps down.
Aslam will be followed by Lt Gen Rashid Mehmood, Chief of General Staff, and Lt Gen Raheel Sharif. According to defense sources, Sharif would be sent a shortlist of three generals from which he would pick one.