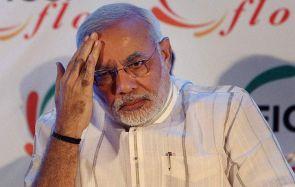 Stepping up the attack on Prime Minister Narendra Modi over the issue of his educational qualifications, the Aam Aadmi Party on Friday claimed it has scanned DelhiUniversity's records from 1975 to 1980 but could find no evidence that he was awarded a Bachelor of Arts degree by the varsity.
The party, however, said there was a degree awarded to one Narendra Kumar Mahavir Prasad Modi, a resident of Alwar, and not to Narendra Damodardas Modi.
"We checked the records of DelhiUniversity from 1975 to 1980 at our level and have figured out that there is no person with the name Narendra Damodardas Modi who was awarded any degree," AAP leader Ashish Khetan claimed.
"There was a person who did his graduation from 1975 to 1978 but that was Narendra Kumar Mahavir Prasad Modi. He is a resident of Alwar in Rajasthan with October 19, 1958 as his date of birth," he alleged.
Referring to details of Narendra Modi's degree in a newspaper, Khetan said the information does not match the one available with DelhiUniversity.
He said this was for the first time that any prime minister's academic qualification was under the scanner.
"Our investigations show that the degree is fake. This is a very serious crime and amounts to forgery," AAP leader Ashutosh said, adding that they also fear that the varsity records could be tampered with.
Khetan said Modi should be dealt with in a way similar to former AAP Minister Jitendra Singh Tomar was treated. Tomar was a law minister who was sacked over fake degree allegations and arrested.
"Police should take him to DelhiUniversity and ask him to show the hall in which he appeared for exams. Everyone is equal before law. They should also follow a similar procedure the way it was adopted in the case of Tomar," Khetan said.
AAP leaders Ashutsoh and Sanjay Singh have also filed an RTI with Delhi University seeking copy of Modi's application form, copy of enrollment form in Modi's handwriting, copy of relevant register, copy of his marksheet of each year, copy of convocation list of 1979 and announcement list during convocation.