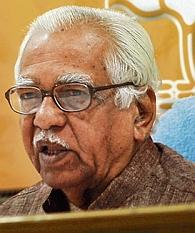 Names of five senior Bharatiya Janata Party leaders, including former petroleum minister Ram Naik, have been firmed up by the government for appointment as governors in states including Uttar Pradesh, Karnataka and Gujarat, highly placed sources said on Sunday.
Former Uttar Pradesh Speaker Kesri Nath Tripathi, senior BJP leader from Delhi V K Malhotra, former Bhopal MP Kailash Joshi and senior party leader from Punjab Balaram Das Tandon are said to be the other four persons whose names have been recommended for appointment as governors.
Official sources said that formal notification for their appointment will be issued by Rashtrapati Bhavan soon.
Prime Minister Narendra Modi and Home Minister Rajnath Singh are said to have discussed the issue two days ago and shortlisted the names, they said.
Veteran BJP leader Naik said in Mumbai that the party leadership had approached him to accept the post of governor of Uttar Pradesh, to which he agreed.
"I was asked by my party to accept the position of the governor of UP and I said yes. It is a challenging job and I am accustomed to doing challenging jobs," Naik told PTI.
If appointed, Naik will replace B L Joshi, who demitted office after the National Democratic Alliance government decided to replace governors appointed during the previous United Progressive Alliance tenure.
Following the change of guard at the Centre and the new regime's pressure, five Governors have already resigned. They are B L Joshi (Uttar Pradesh), M K Narayanan (West Bengal), Shekhar Dutt (Chhattisgarh), Ashwani Kumar (Nagaland) and B V Wanchoo (Goa).
Two governors -- H R Bhardwaj (Karnataka) and Devanand Konwar (Tripura) -- retired late last month, while a few days ago, Lt Governor of Puducherry Virendra Kataria was sacked by the government.

Gujarat Governor Kamala Beniwal was transferred to Mizoram and Mizoram Governor Vakkom Purushothaman shifted to Nagaland for the remainder of their term. However, unhappy with the transfer, Purushothaman has resigned from the post.
A few other governors appointed by the previous UPA regime, however, continue to remain in office despite the NDA government's pressure.
They include K Sankaranarayanan (Maharashtra), Sheila Dikshit (Kerala), Jaganath Pahadia (Haryana) and Shivraj V Patil (Punjab).
Other names doing the rounds for the post of governors are former Lucknow MP Lalji Tandon, former BJP leader from Kerala O Rajagopal and veteran party leader from Himachal Pradesh Shanta Kumar.
Name of former Attorney General Soli Sorabjee is also doing the rounds for appointment as governor.
Kerala Governor Dikshit and Maharashtra Governor Sankaranarayanan too may be transferred to northeastern states, the sources said.
Image: Former petroleum minister Ram Naik