'As a seasoned politician I know how to talk and understand the opinion and sentiments (of other political leaders).'
Archis Mohan reports.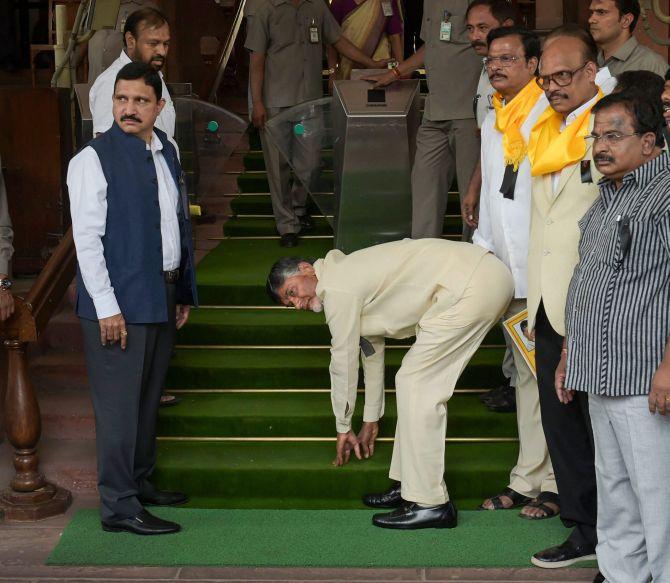 Andhra Pradesh Chief Minister Nara Chandrababu Naidu on Saturday, October 27, said power has come to be concentrated in politicians and bureaucrats from one particular state which wasn't healthy for India's democracy, and indicated a national role for himself to bring together Opposition parties to fight the Bharatiya Janata Party in the 2019 Lok Sabha elections.
The Andhra CM met several Opposition leaders in New Delhi, but insisted his efforts weren't to secure any "position" post the 2019 Lok Sabha polls, but to save "our great nation".
He also indicated that a 1996-1998 United Front government experiment wasn't practical, and a government comprising solely of regional parties wasn't possible without the Congress.
"So without a national party one cannot form a government at the Centre. How to form a government? We have to give confidence to the people now. All of us have to join together, those who are interested in (saving) the nation," Naidu said.
His Telugu Desam Party walked out of the BJP-led National Democratic Alliance in March on the question of the Centre not granting his state special category status, and later also brought in a no-confidence motion against the Modi government in the Lok Sabha.
The TDP has aligned with the Congress and some other parties for the Telangana assembly polls, where voting is scheduled for December 7.
Naidu said the Modi government has not fulfilled any of its promises, and people have lost confidence in the PM.
He said instead of focusing on development, the Modi government is using the enforcement directorate, the Central Bureau of Investigation and income tax department to "threaten and harass" political rivals and the media.
In Delhi, Naidu met Bahujan Samaj Party chief Mayawati, Delhi CM Arvind Kejriwal, former BJP leader Yashwant Sinha, National Conference leader Dr Farooq Abdullah and Loktantrik Janata Dal leader Sharad Yadav.
Naidu played a key role in the formation of the United Front governments from 1996 to 1998, and was also the Modi-led NDA's convener.
Asked how he hoped to convince Mayawati to have seat adjustments or alliance with the Congress, Naidu said: "As a seasoned politician I know how to talk and understand the opinion and sentiments (of other political leaders). Ultimately, we have to move forward, all of us."
The Andhra CM said there were inherent contradictions, both of political reality and ideology, where at times two parties are opponents in a state but have to come together at the Centre.
But he said Opposition parties needed to join forces as it was a political compulsion and also for the welfare of the nation.