Was the recent Nabha jailbreak a comment on lax security in Punjab jails?
Or a sign that the separatist movement of the 1980s is dormant but alive?
Amit Agnihotri/Business Standard reports.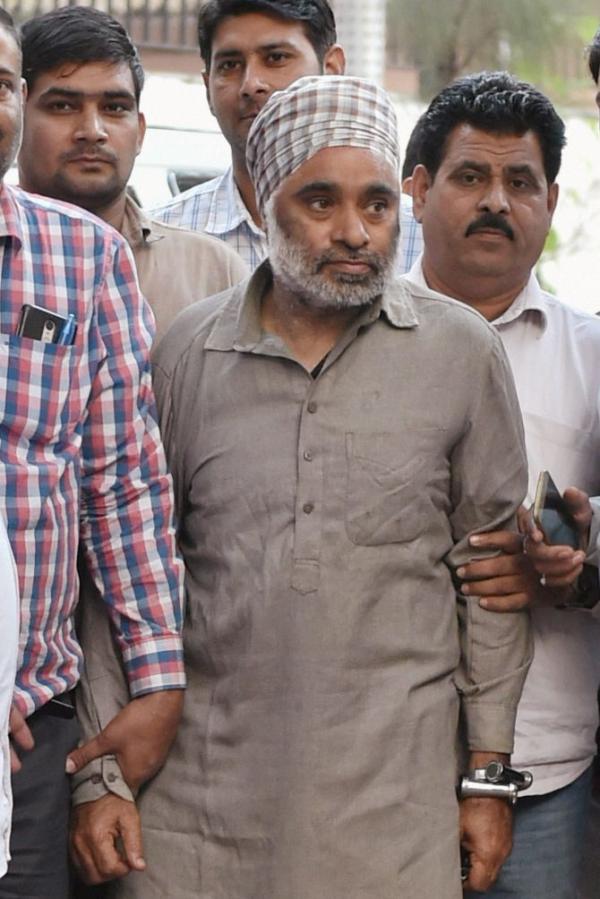 What was behind the massive breach of security that led to the escape of Khalistan movement leader Harminder Singh Mintoo from the Nabha jail at end-November?
Only a security lapse, caused by carelessness on the part of Punjab's jail administration, already under stress?
Or do conditions exist for a resurgence of the separatist movement?
Mintoo was re-arrested within days, but that does not detract from the fact that his colleagues managed to spring him from what is a high-security jail.
"This is not normal criminal activity... Mintoo is among the top militants of the Babbar Khalsa group," the state's former prisons chief, A P Bhatnagar, said.
It would not do, he warned, to be sanguine about the daring jailbreak, especially the finesse with which it was executed.
Bhatnagar served in the Intelligence Bureau and was also director general (intelligence) in the state police.
Pakistan's espionage agency, ISI, might have a hand in the Nabha jail break and the inmates freed might have played a role in the coming elections or in some anti-national activity.
"Such terrorists are moved to ISI safe houses and deployed later on," said Bhatnagar. "They might also be used to influence voters in their areas of influence in favour of a political party."
This view has also been aired by Punjab Congress chief Amarinder Singh, who says the jailbreak was entirely elections-related.
'DGP (director general of police) Suresh Arora recently said 52 armed gangs involving around 450 persons were operating in the state with impunity. Why has he suddenly gone silent over the issue?' Captain Amarinder Singh demanded.
Referring to recent reports of the desecration of holy books of different faiths, Captain Singh accused the Akali Dal of trying to polarise voters ahead of the assembly polls early next year.
He also charged that the criminals other than Mintoo who were freed at Nabha were supposed to help the Akalis in the western parts of Punjab, ahead of the assembly polls.
However, former DGP (prisons) Anil Kaushik said the Nabha jailbreak was an act of criminal gangs and could not be linked to a larger plot of radical or terrorist elements.
"There does not seem to be a terrorist angle. It was an act of gangs. Mintoo took advantage of the situation as the attackers were trying to free other inmates," he said.
"There is less local support to terrorists in the state, though people from across the border keep making such plans," Kaushik said.
Both Bhatnagar and Kaushik, however, acknowledge that the administration and conditions in Punjab jails are far from satisfactory.
They list shortage of staff, two-thirds of inmates being undertrials, interference by politicians and slack implementation of security manuals as some of the problems.
Roll calls of inmates are not done properly and jail boundary patrols are skipped.
"I visited the Nabha jail several times, as it is a high security prison. On each occasion, I found the security instructions were not being implemented. I told the officials about it and asked them to address the gaps," said Bhatnagar.
"Sundays are relaxed, as people get busy with personal work. Usually, prisoners are not supposed to be transferred on a Sunday, but this rule is sometimes flouted," said Kaushik.
That was the day the breakout happened and it began with intruders masquerading as a police team entry.
IMAGE: Khalistan Liberation Force 'chief' Harminder Singh Mintoo produced at the Patiala House court in New Delhi.
Mintoo was arrested by the Delhi police a couple of days after he escaped from the Nabha jail.
Photograph: Atul Yadav/PTI Photo