In a traditional ceremony, US-educated Yaduveer Krishnadatta Chamaraja Wadiyar, the adopted son of Pramoda Devi Wadiyar, was on Thursday crowned as the titular head of the erstwhile Mysuru royal family.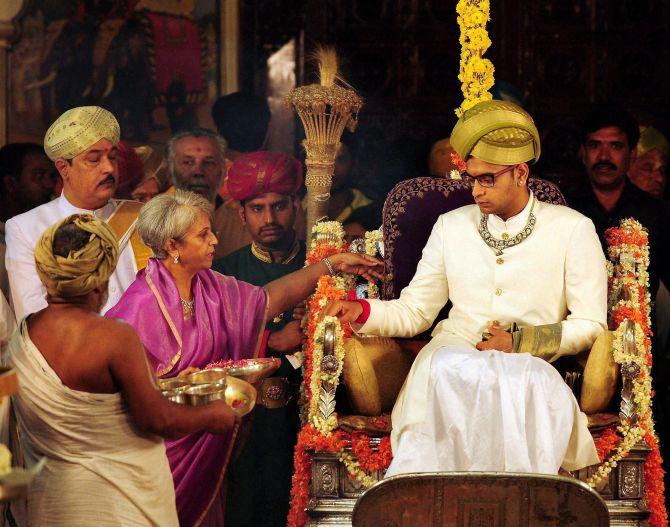 The coronation took place at Kalyana Mantap in AmbaVilasPalace at an auspicious hour on Thursdat morning amid Vedic chants and slogans hailing the Mysuru royalty and the 23-year-old "king" as he ascended the silver throne 'Bhadrasana'.
Yaduveer, the 27th King of Wadiyar dynasty, will have to wait until Dasara to ascend the golden throne, when he will preside over the 'khasa (private) durbar', which is reminiscent of the bygone era.
Pramoda Devi Wadiyar, widow of Srikantadatta Narasimharaja Wadiyar, the last descendant of the Wadiyar dynasty, formally adopted Yaduveer Gopal Raj Urs in February, after which he was rechristened as Yaduveer Krishnadatta Chamaraja Wadiyar.
Yaduveer has completed his BA in Economics and English at BostonUniversity in the US and is the grandson of Princess Gayatri Devi, the eldest daughter of the last Maharaja Jayachamarajendra Wadiyar.
Yaduveer's fiancé Trishika Kumari, who also belongs to a royal family from Rajasthan, attended the event. Their wedding is expected by end of this year.
The last coronation took place 41 years ago when Srikantadatta Narasimharaja Wadiyar was crowned at the age of 21.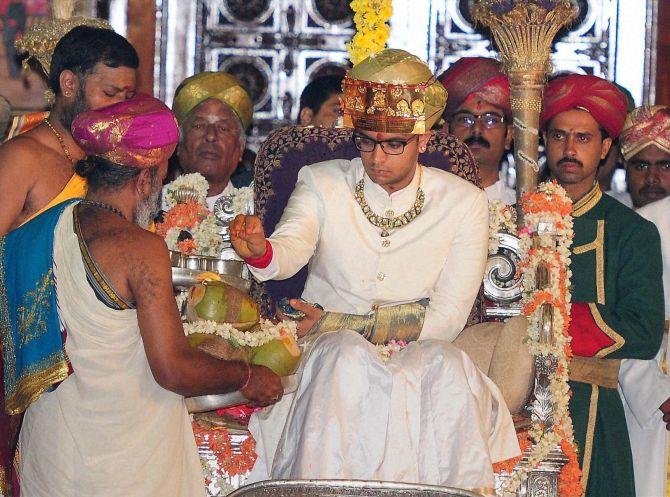 After the ceremonies, Yaduveer said with the cooperation of the people, "I will try my best to continue the royal family traditions".
Srikantadatta Wadiyar, the only son of Jayachamarajendra Wadiyar, the last ruling Maharaja of Mysuru, and his second wife Maharani Tripura Sundari Ammani Avaru, succeeded his father as the head of his dynasty in September 1974. He died of cardiac arrest in Bengaluru on 10 December, 2013.
As part of the coronation ceremony, Yaduveer along with Pramoda Devi and other family members were performing series of rituals according to royal traditions since Wednesday that included visits to temples and 'pada puja' to 'Rajaguru' Bramhatantra Parakala mutt seer Abhinava Vageesha Brahmatantra Swatantra Swami.
After ascending the throne, Yaduveer was presented with 'prasada' from various temples, including ChamundeshwariTemple in Mysuru, a tutelary deity held in reverence for centuries by Mysuru Maharajas.
About a thousand guests, including family and friends, attended the coronation ceremony. Prominent personalities who attended the event included former Prime Minister H D Deve Gowda and state ministers K J George, R V Deshpande, D K Shivakumar, Srinivasa Prasad and Roshan Baig and Lokayukta Y Bhaskar Rao.
The Wadiyar dynasty ruled the Kingdom of Mysuru from 1399 to 1947, the last king being Jayachamarajendra Wadiyar, who ruled from 1940 until Indian independence in 1947 when he acceded his kingdom to the dominion of India, but continued as the Maharaja until India became a Republic in 1950.
People in old Mysuru region of Karnataka still revere Wadiyar rulers for their contribution to society that includes construction of KRS dam across river Cauvery and establishment of industries and educational institutions.
Photographs: PTI