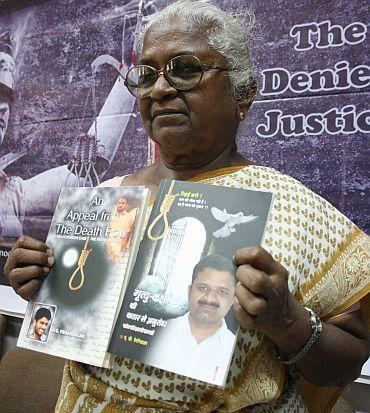 On a multi-city tour to promote the book '
An Appeal from the Death Row
', a determined mother believes her son A G Perarivalan, the convicted 'author-on-a-death-row,' is an innocent man.
Perarivalan, who is facing a death sentence in connection with the 1991 assassination of former Prime Minister Rajiv Gandhi, has penned his version of 'truth' in the form of a book originally written in Tamil.
On the occasion of the release of the Hindi translation of his book, Perarivalan's mother Arputham Ammal appealed to the government of India to release her son, "because he is completely innocent. All these past years he has lived a life of a living death…."
Speaking only in Tamil, Ammal held a press conference in Mumbai on Monday and argued that if the government was ready to give a written assurance to the government of Portugal that no death sentence will be awarded to underworld don Abu Salem, then what is the harm in commuting Perarivalan's death sentence?
According to Arputham, for several years now she has been trying to meet Congress chief and Rajiv's widow Sonia Gandhi, but all her efforts have been in vain so far.
"We travelled to Delhi to try meeting several Congress leaders, party workers, etc. We have even been to the Congress office in Delhi. But no one is helping us," said Arputham.
It must be recounted that in 1999, after the Supreme Court confirmed the death sentences of the three persons including Perarivalan, Sonia Gandhi had written a letter to the then president K R Narayanan, seeking commutation of their death penalities.
The letter, which has been reprinted on the back cover of the English edition, reads, "Our family does not think that the four held responsible for the heinous murder of my dear husband must be hanged. My son, my daughter, or myself do not wish that the four murderers be hanged."
A desperate Arputham felt, "If she could write a letter back then, why can't she say something now? My son was a 19-year-old-boy when he got arrested, and today he is a 40-year-old-man. Investigators swear by his confession. But the fact is that he was tortured."
"Everyone in Chennai is supporting us. It's now the turn of central government to deliver justice in the name of mercy. This case has become big only because of one name -- Rajiv Gandhi -- otherwise there is no evidence in the case," said the mother who has been fighting a battle for over a decade now and is not willing to stop till she frees her son. 
In the book, Perarivalan has narrated his version of facts, incidents, the way the case has been handled, his version of sufferings in the prison, etc.
The book also chronicles, the letters and appeals "not from the grounds of sympathy but from the ground of justice and truth," Arputham added.
Meanwhile, just before Arputham was about to begin her address to the press, a group of five activists of the National Student's Union of India -- the student wing of the Congress -- stormed and barged into the press conference, shouting 'Rajiv Gandhi Amar Rahe' slogans.  (See Video Here)
After this brief interruption, Arputham Ammal made a short speech demanding the release of her son. 
Image: Perarivalan's mother Arputham Ammal at the book launch in Mumbai on Monday
Photograph/Video: Hitesh Harisinghani/Rediff.com