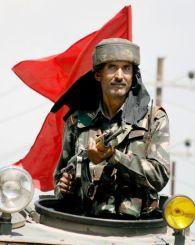 Uttar Pradesh on Monday was on the edge struggling to contain communal flare-up as the death toll in Muzaffarnagar rose to 31 and violence spread to neighbouring Shamli and other districts even as curfew remained in force and army staged flag marches for the second consecutive day.
Under all round attack, the Akhilesh Yadav government late in the evening announced setting up of an inquiry commission headed by (retired) Justice Vishnu Sahai to probe the Muzaffarnagar violence, state Home Secretary Kamal Saxena told reporters in Lucknow.
"The death toll in the violence in Muzaffarnagar and other areas has climbed to 31," Principal Secretary Home R M Srivastava told PTI.
Violence spread to neighbouring district of Shamli where a 40-year-old Imam of a mosque, Maulana Umar Din, was shot dead, Shamli District Magistrate P K Singh said.
Concerned over the incidents, Prime Minister Manmohan Singh spoke to Chief Minister Akhilesh Yadav and assured him of all help from the Centre to deal with the situation.
Union Home Ministry asked Uttar Pradesh government to send Muzaffarnagar situation report every 12 hours. It also asked the state government to deploy enough forces in rural areas in the district where violence is yet to be contained.
Seventeen FIRs have been lodged in connection with the incidents. One of the FIR is relating to the Mahapanchayat held in Sukheda village in which provocative speeches were allegedly made, leading to the violence.
Centre had alerted 11 states following intelligence inputs about possible communal incidents, Union Home Minister Sushilkumar Shinde said. "I don't think he (Akhilesh Yadav) ignored these warnings," he said on being asked whether the chief minister was to blamed for the violence.
Union Minister Ajit Singh and three BJP MPs including Ravi Shankar Prasad were stopped from visiting the troubled district and detained by the Ghaziabad police when they attempted to enter the state.
A blame game erupted with the opposition accusing the state government of failing to act in time to prevent the violence and the ruling Samajwadi Party hitting back, saying its rivals were trying to stir up communal trouble.
In an overnight crackdown, over 200 people were arrested and 1000 persons booked, including BJP legislative party leader Hukum Singh, party MLAs Suresh Rana, Bhartendu, Sangeet Som and former Congress MP Harendra Malik for violating prohibitory orders.
Authorities cancelled 1,744 arms licenses in Bhorkala, Shahpur, Phugana and some other areas of the district.