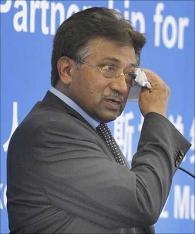 Politicos across the country have condemned former Pakistan president general Pervez Musharraf's statement on the Kargil War, accusing him of fabricating history.
Musharraf had reportedly said that the Pakistan army had 'caught India by the throat' during the 1999 Kargil War, and adding that India will never forget the war .
Bharatiya Janata Party spokesman Nalin Kohli told ANI, "The whole world knows about the Kargil War and how the Indian forces violently pushed out the intruders from Pakistan, and how, Pakistan was defeated in this exercise. I don't know how Pakistan has arrived at this conclusion. But, it is not uncommon for Pakistan to create history, rather than look at the events, and even if required, fabricate history."
Communist Party of India leader D Raja said, "India won the Kargil War -- Musharraf should understand that. Now, he is an ex-army chief of Pakistan and he should understand that there are efforts to normalise the situation between India and Pakistan. He should not have made such provocative statements. Perhaps, he is doing this to find some space in the politics of Pakistan. Why is he digging up the past issues?"
Congress Party spokesman Abhishek Manu Singhvi said, "It is best for Musharraf to introspect on his tragic state as well as more tragic state of his country, rather than preaching to or giving statements on India or on Kargil. It is the classic case of the pot calling the kettle black. This is not the right approach to be adopted, because it diminishes both Pakistan and Musharraf."
The Kargil War, which took place in the Kargil District of Jammu and Kashmir in the middle of 1999, resulted in the complete withdrawal of Pakistani forces from Indian territory to the Line of Control and led to the worldwide condemnation of Islamabad's policies.
It is reportedly also the only instance of a direct conflict between two nuclear states.