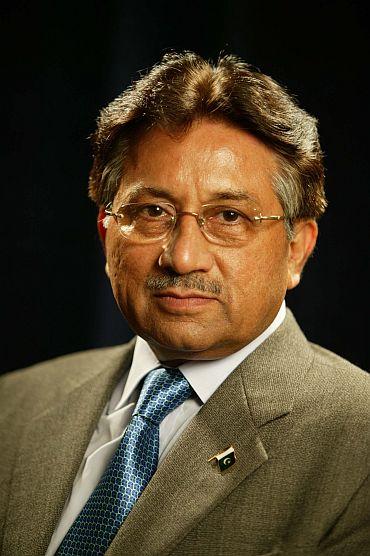 Seeking closer ties with Israel, former Pakistan President General Pervez Musharraf said the Jewish state is a fait accompli, relations with it can help Islamabad come closer to the strong Jewish lobby in the US and in its conflict against India.

Musharraf, who is planning to return to Pakistan on January 25 or 27, in his first interview to an Israeli daily Ha'aretz said getting closer to Israel would be in the interest of his country as "Israel has always been pro-India against Pakistan."

He said defying popular sentiment in Pakistan, he shook hand with Israeli Prime Minister Ariel Sharon at the UN, spoke to the American Jewish Congress as the Head of the State and sent his foreign minister Khurshid Mahmoud Kasuri to meet the then Israeli Foreign Minister Silvan Shalom in Istanbul.

"I felt I needed to test the waters in Pakistan when it comes to Israel. Yes. We have been anti-Israel in Pakistan because of Palestine, because the Pakistani people are on the side of the Palestinians and concerned for their plight. Right from the beginning, from when we got our independence in 1947 and Israel came into reality a year later, we have been pro-Palestine," said Musharraf, who is planning to return to Pakistan on January 25 or 27.

"But I believe in realism and in assessing ground realities. I think it's necessary to understand the changing environment, analyse it - and respond. A lot has happened since '48, and one has to adjust. Policies are made, yes, but when the environment changes, policies should change. Policies should not remain constant," he said justifying his gestures towards the Jewish state.

The General feels that his country can continue to support the Palestinian cause but should not err in grasping changed global scenario.

"Israel is a fait accompli. A lot of the Muslim world have understood that and I know many Muslim countries have relations with Israel, whether above board or covertly. So this is the change in reality I am talking about," Musharraf said.

"Pakistan has to keep demanding the resolution of the Palestinian dispute... [but] Pakistan also needs to keep readjusting its diplomatic stand toward Israel based on the mere fact that it exists and is not going away," he asserted.

Musharraf said defying the popular sentiment in Pakistan he stood by his actions of shaking hand with Israeli Prime Minister Ariel Sharon at the UN, speaking to the American Jewish Congress as the Head of the State and sending his foreign minister Khurshid Mahmoud Kasuri to meet the then Israeli Foreign Minister Silvan Shalom in Istanbul.

In his interview, he said, the public gave a positive response to his initiatives completely forgetting the widespread furore it caused in Pakistan with the secular parties accusing him of playing up to the Americans and the religious parties threatening street protests to oust the government if it took even a small step toward the recognition of Israel.

His government had to immediately backtrack with both Prime Minister Zafarullah Khan Jamali and Information Minister Sheikh Rashid Ahmed reiterating Pakistan's traditional policy toward Israel, and the Foreign Office jumping in and joining the chorus.

Musharraf however insists that "there was no negative fallout", though admitting that "it was a risk".

"There is always a risk in any new initiative. You can never be sure [what the reaction will be]. But a leader who is not prepared to take risks is not a leader. I believe that leaders should generally flow with public opinion. But there are times and issues where the public opinion goes astray, or is anchored in wrong premises - and to change that is the leader's job," he stressed.

Pointing towards a commonality between Israel and Pakistan, Musharraf said that they both owe their origin in religion.

"Pakistan, like Israel, is an ideological state. That is the foundation of our creation. We are an Islamic republic," he said.

Musharraf, explaining the strong reactions in his country towards various actions that are perceived anti-Islamic, said "this goes toward explaining why Pakistani Muslims are much more sensitive about Islam than most other Muslim countries. We are extremely sensitive about desecration of the Koran. So we are wholly sensitive to the Palestinian plight and any new initiative regarding Israel has to be proposed very delicately."

Asked about the recent furore caused by the statement of US ambassador to Belgium, who hinted that Israel's political positions may explain anti-Semitism in Muslim countries, Musharraf in carefully chosen words said that "it may be correct".

"It may be correct, especially when the Jewish community anywhere in the world immediately orients itself with Israel -- on the Palestinian issue, but also on any issue in the Arab world," he responded.

"For example, in the US, if a Presidential candidate utters a word against Israel or the Jews, all Jews gravitate against him. So candidates have to be pro-Israel. This is all seen by the Muslim world and then there is a reaction against it. This is harmful, and dangerous, evoking and confirming the clash of civilisations," Musharraf stressed.

The former Pakistan president came hard on the exaggerated influence enjoyed by the US Jewish lobby but also gave a confused response citing it as one of the reasons for seeking close ties with Israel.

"The lobby is exactly what is disliked in the Muslim world. Why is the US like that? Now, for example, when there was a move in the UN to recognise Palestine, the whole world is on one side, and the US on the other. These are the things that are seen in the Muslim world as totally partisan and biased in favour of Israel and Jews -- because of Jewish influence, the US is totally pro-Israel," he pointed.

"They don't see realities and they are unfair to the point of violating justice. On one side they believe in democracy, say, but then Hamas wins and they change their position. What kind of a dual policy is this? I think the US needs to look inward and I would say the Jewish community in the US needs to look inward as well," he argued.

Musharraf feels that the wave of political turmoil in the Muslim world owes its origin to this partisan attitude.

"We feel on the defensive. And this has led to guerrilla warfare and terrorism, which we see as a force equaliser... You are alienating the Muslim community as a whole and that is why extremism and Islamic political parties are gaining strength," he said, pointing at the changes in the Arab world today, and the ground being gained by religious political parties in countries like Egypt or Tunisia.

When asked what Pakistan has to gain by getting closer to Israel, the very thing that most irks Musharraf, "the perceived Jewish influence in the US and elsewhere" was what he pointed out as a potential prize.

"What do we stand to gain? First of all, there is an unnecessary opposition by Israel to Pakistan in all international forums," he said.

"And the world media is part of this, yes. Israel has clout in the media. I would say the Jewish community has clout in the media, in the US and elsewhere which leads to unnecessary opposition to us. Israel is a country which has a certain clout, especially with the US backing it. In any case, there is nothing to lose by trying to get on Israel's good side," Musharraf told the Israeli daily.

However the former Pakistani military ruler was on a more confident footing when describing another reason why it might be in Pakistan's interest to get closer to Israel -- the India factor.

"The issue of India is another sensitivity in Pakistan. Israel has always been pro-India against Pakistan," he said.

Acknowledging that this could be in part because Israel and Pakistan do not have diplomatic relations, he still feels the opposition is a little far fetched.

"Well, yes. That's right. But that does not mean you should be actively anti-Pakistan, supporting India on important issues such as the Kashmir dispute, advising them, and cooperating on intelligence, which is a very big deal", Musharraf noted.

"Pakistan adjusting its stance toward Israel has the advantage of possibly breaking those anti-Pakistan activities," he said.

The former General explains his independent thinking in assessing the pros and cons of a situation, such as relations with Israel, to his military training, and surprisingly also lack of readings.

"I suppose from my military training. I was always an analytical and independent thinker, but it really was magnified by that training. And then, I don't read that much. Some people read and acquire things from the books and statements of others - but I generate my own ideas as opposed to borrowing them. I believe in my own theories," he said.

Musharraf in his interview also eulogises comatosed former Israeli Prime Minister Ariel Sharon for his contributions on the battlefield for Israel, admitting that he is a fan of the former Israeli General.

"I know how he (Sharon) contributed toward the victories of the Israelis. In every war it was his contribution that counted. Every time this man contributed. He is a great military leader ...My admiration comes from a place of realistic assessment of his military exploits, which were very impressive. I think he was a great military commander and I appreciate that," he told the Israeli daily.

Asked about his offer to mediate solve the Israeli-Palestinian conflict Musharraf argued that it was at the root many of todays bigger problems.

"Look at terrorism and extremism, 9/11, Al Qaeda, Hezbollah, Hamas - all these are products of the unsettled Palestinian dispute. Because of the misery these Palestinians are suffering, which is seen all over the world on TV, there is a reaction," he argued.

"If you go back to the history of the Muslim world, you see that for centuries we were colonised -- all of us except Turkey. When we gained independence after the Second World War, we were illiterate, backward and poor, almost all of us, and the Palestinian issue arose as a focal point. This aroused sympathetic feelings in the whole Muslim world and affected the collective mind of the Muslims," he further added.

"And, with the root of so many problems in the Palestinian problem, I was thinking, how is it that we have not solved the dispute and it is causing so much trouble to the whole world, especially to the Muslim world, and it has come to our region now, to Afghanistan, with Al Qaeda and all this," Musharraf said explaining his offer to mediate in the conflict.

The Pakistani General also elaborated on his efforts following his offer to mediate as to how to rally support in the Muslim world to solve the long pending dispute.

Israel at the time did welcome Musharraf's publicly-stated offer to help, but also said it was doubtful the Pakistani leader could make much progress.