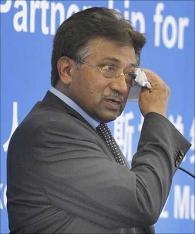 A Pakistani court on Thursday ordered authorities to remove the name of former military ruler Pervez Musharraf from the exit control list, paving the way for him to leave the country. Sindh high court two-judge bench comprising Justice Mohammad Ali Mazhar and Justice Shahnawaz issued the ruling following the hearing of Musharraf's request for the removal of his name from the list.
Musharraf, 70, who is facing multiple trials including one under the high-treason act, had filed a petition in the Sindh high court to remove his name from the Exit Control List so that he can visit his ailing mother in the United Arab Emirates.
The government apposed the petition saying he could abscond if allowed to travel abroad. "It is true that now there is no legal hurdle in his (Musharraf) going out of the country," Aasia Ishaque of All Pakistan Muslim League told PTI.
"But he will not go out of the country immediately." She said there is always a period of 15-days after such verdicts by courts as the prosecution is given time to go into appeal to the supreme court.
Musharraf will wait for this period, she added. His name was put on the ECL on April 5 last year to ensure that he remains in the country and attends hearings of all the cases he has been named in. Anyone whose name is on the ECL cannot leave the country without permission.
On March 31, Musharraf was indicted for suspending, subverting and abrogating the Constitution, imposing an emergency in the country in November 2007 and detaining judges of the superior courts.
The former president, who is the first military ruler in Pakistan's history to be tried in court, has rejected all the charges leveled against him. He flew to Karachi last month to undergo medical tests.
Musharraf, who returned to Pakistan from self-exile in March last year, was also named as an accused in the murder cases of former Prime Minister Benazir Bhutto in 2007 and former Baloch tribal leader Akbar Bugti in 2006.
Later, Musharraf's lawyer Farrugh Naseem told mediapersons that the court's ruling in favour of his client had proved that the cases pending against the former president were politically motivated.
"I told the court that my client has no intention of not returning to Pakistan...," Naseem said. The bench said the federal government had 15 days to file an appeal against the decision to remove Musharraf's name from the list.
Interestingly, no prosecution lawyer was present in court for the hearing.
Meanwhile in Islamabad, a special court dismissed Musharraf's appeal for exemption from appearing in the Lal Mashid Abdul Rashid Ghazi murder case. He has been ordered to appear before the court on July 1.