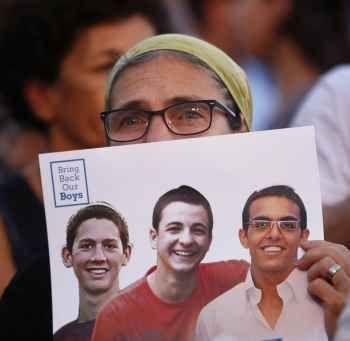 Amid spiralling violence and growing tension over the killing of three Israeli teens and the burning of an Arab boy in retaliation, a bereaved Jewish family has emerged as a steady and calming voice trying to instill reason among people calling for revenge.
Rachelle and Avi Fraenkel, whose 16-year-old son Naftali was kidnapped along with Gilad Shaar and Eyal Yifrah on June 12 and was later found murdered, have been unequivocal in their condemnation of the murder of an Arab teenager largely suspected of having been burnt alive in a revenge attack.
"If a young Arab really was murdered for nationalist reasons, this is a horrifying and shocking act," a statement released by the Fraenkel family said.
"There is no difference between blood and blood. Murder is murder. There is no justification, no pardon and no atonement for murder," the statement added.
Rachelle had earlier appreciated Palestinian President Mahmoud Abbas' move to condemn the kidnappings before the dead bodies of the three youngsters were found urging to "keep children out of the game."
The Arab and Jewish bereaved families established contact yesterday during a condolence visit by Jerusalem Mayor, Nir Barkat, to the Fraenkel family home.
Barkat called Hussein Abu Khdeir, the father of 16-year-old Mohammed Abu Khdeir, who is said to have been burnt alive in a revenge killing, to offer his condolences and at the end of the call asked Abu Khdeir to talk to Yishai Fraenkel, Naftali's uncle.
Yishai expressed his condolences adding that he was horrified to learn that Khdeir's murderers were Jews.
The two agreed that the families of the three Jewish victims would soon pay a condolence visit to Abu Khdeir's family over the death of their son.
Six Jewish extremists have been apprehended by the police in connection to the Arab teenager's murder.
Three of the suspects are said to have fully confessed and re-enacted the crime.
The re-enactment followed the route of the car in which the teen was kidnapped leading to the Jerusalem Forest where he was burned alive.
As rioting continued across the country following Abu Khdeir's murder, Israel's Prime Minister Benjamin Netanyahu spoke to Hussein Abu Khdeir denouncing the killing.
"I would like to express my outrage and that of the citizens of Israel over the reprehensible murder of your son," Netanyahu told the bereaved father.
"We acted immediately to apprehend the murderers. We will bring them to trial and they will be dealt with to the fullest extent of the law," the Premier promised.
"We denounce all brutal behaviour. The murder of your son is abhorrent and cannot be countenanced by any human being," he added.
Image: An Israeli woman holds a sign with images of three missing Israeli teenagers, at a rally in Tel Aviv Photograph: Reuters