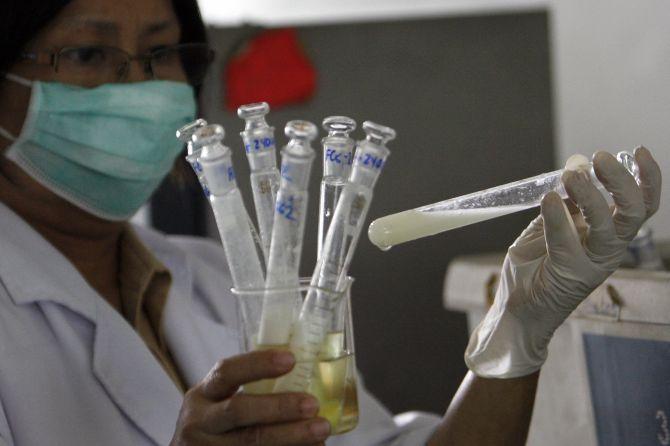 Twenty-nine years after she became famous as Mumbai's first test tube baby, Harsha Chawda Shah is now herself a proud mother of a baby boy.
Notably, Harsha's caesarean-section at the Jaslok Hospital on the eve of Women's Day on Monday was performed by the same doctors who had helped her mother in conception by in-vitro fertilisation technique in 1986.
Harsha's baby boy, born on the auspicious day of 'Shivratri', is doing fine and the mother is fast recovering.
Most expectedly, both could be discharged from the hospital in next 4 to 5 days, said Dr Indira Hinduja who carried out the delivery.
Dr Hinduja had led the team during Harsha's birth using the IVF technology in August 1986.
Harsha, a resident of suburban Matunga, had hit the headlines when she was born on August 6, 1986, after Dr Indira Hinduja and Dr Kusum Zaveri - the infertility treatment specialists — delivered her at KEM hospital in Mumbai.
The IVF technique opened new gateways and since then thousands of women, who could not conceive naturally, have got the pleasure of becoming mother.
Expressing her joy over the birth of Harsha's child, Dr Hinduja told PTI, "It is really hard to believe that we have delivered more than 15,000 test tube babies since the day we delivered Harsha. I remember the day Harsha was born, and since then she has remained an integral part of my personal and professional life and I am very happy for her today."
"Harsha's baby was conceived naturally and she was admitted to the hospital on Sunday. Now it's more than a proven fact that even test tube-born babies can also have a very normal life," she said, adding that the IVF technique has proven to be a boon for infertile and aged women who want to become mother.
"I remember the day Harsha was born. Her parents were on top of the world as well as my team. Now that the test tube baby has delivered a healthy baby weighing 3.18 kilos, what can be more awesome than this," said Dr Hinduja, who got the Maharashtra Kanya Gaurav Puraskar on Monday by a social organisation for her contribution in her field.
"Since the day Harsha was born, she and her family members became a part of our lives, sharing every occasion and achievement. It was but a natural decision that she chose us to deliver her baby," she said.
Remembering Harsha's birth, the doctor said, "I can recall very accurately even now. A tuberculosis infection had damaged Harsha's mother Mani Chawda's fallopian tubes. Harsha's parents, in their 20s and desperate to have a child, had approached Dr Hinduja at Parel's K E M Hospital. Her both tubes were choked, that killed the chances of her to become a mother. But she desperately wanted a child."
"Hence we had two options. Either we open the tubes through surgery or go for the IVF, which was in experimental mode in those days. I chose the IVF and Harsha was born with this technique," she said.
Sharing his joy at the birth of their child, Harsha's husband Divyapal Shah, an accountant by profession, said, "We are on cloud nine. These are the best days of our life. Our son born on the auspicious day of 'Shivratri' has added reasons to rejoice it."
To a question if he was sceptic about marrying a woman born through the IVF, Shah, who tied the knot with Harsha last year, replied, "No not at all. I was very confident of leading a normal life with a normal woman and today I am the happiest person."
"Now we both are waiting for the doctor's call to discharge her and my son from the hospital to go home," he added.
Image used for representation purpose only. Photograph: Romeo Ranoco/Reuters