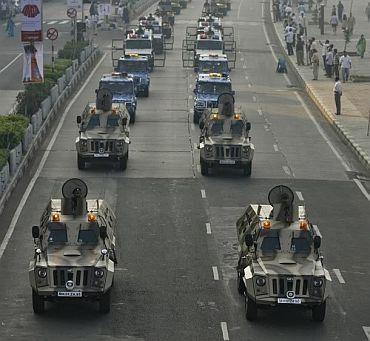 Mumbai Police, which fought the terrorists during the 26/11 strike, invited tenders to procure bullet proof and run flat tyres and tubeless rims to replace worn out wheels of its combat-ready vehicles but not a single company responded to supply the consignment.

This has prompted the authorities to extend the deadline by a month.

The tenders were called two months ago for 495 tubeless radial and bullet proof run flat system tyres and tubeless rims, totally valued at about Rs two crore, for its armoured combat ready vehicles such as Scorpio, Rakshak, Mahindra bullet proof buses and few Ambassador vehicles that are usually used by senior police officials, police sources said.

Advertisements were also issued in the newspapers mentioning material required, estimated cost and November 22, 2012 as last date of acceptance of tenders but not a single company has come forward to supply the materials, police said.

"May be the suppliers need more time. Hence we extended the deadline for a month," Atul Patil, the Deputy Police Commissioner at Mumbai Motor transport section, told PTI.

The tubeless radial tyres of a combat ready vehicle are required to be replaced after the carrier plies for over 45,000 km, police said.

Mumbai police had been using a few vehicles with such bullet proof tyres since a long time but after the 26/11 terror attack, a number of armoured combat ready vehicles were procured, police added.

Anti-terror commando unit Quick Response Teams and Force One, which were formed after the Mumbai attacks and armed with weapons like the MP9 tactical machine pistol, long-range M82 Law Enforcement Rifle System and MP-5K-Navy gun imported from Germany, usually use the bullet proof vehicles.

Combat ready vehicles with bullet proof tyres help the security personnel to effectively counter attack the terrorists.