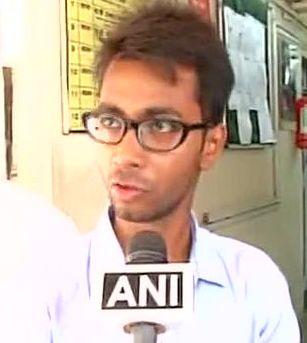 In a case smacking of religious discrimination, a young MBA graduate was denied employment in a diamond export company in Mumbai for being a Muslim, prompting the police to register a case after the issue drew widespread condemnation.
Taking a serious note of the incident, Maharashtra Chief Minister Devendra Fadnavis ordered a probe and Mumbai police registered a case against the business house.
The matter also prompted the National Commission for Minorities to seek an explanation from the business house as it drew criticism from the Centre's BJP-led government, which said religious discrimination cannot be allowed.

Management graduate Zeshan Ali Khan had applied for an opening in the company on May 19 and, according to him, he received a response within 15 minutes which said they hired only non-Muslim candidates.

"Thanks for your application. We regret to inform you that we hire only non-Muslim candidates," the company said in response to his application.
"I was looking for a job, I came to know about a recruitment drive taking place at Hare Krishna Exports Private Limited, one of the leading exports houses of the country. I thought it would be a wonderful opportunity to start my career with them.
Asked about the case, Fadnavis said: "I think it is totally unfair. They (the business house) have the right not to select any one for lack of skill but a denial on the basis of religion is completely unacceptable. We will inquire into this case."
Later, VB Nagar Police police registered a case against the company.
Senior Police Inspector Suhas Raut said the case was registered under the IPC sections 153-B (imputation and assertions prejudicial to national integration) and 153 B 1b (asserting or publishing that any class of persons shall by reason of their being members of any religious, racial or language or regional group or caste or community be denied or deprived of their rights as citizens of India).

Meanwhile, the company issued a clarification claiming it was "an error" by an HR trainee against whom appropriate action has been taken.
"Company functions without being biased with any caste, religion and gender. In fact, more than 50 employees are from Minority community and people from 28 states are working in our group companies some of them being for more than 12 years," reads the clarification sent to the media.
Narrating his experience, Khan said, "I applied for a job day before yesterday in the evening at 5:45 pm and within 15 minutes I get a reply from them that we regret to inform you, we don't hire Muslims. We only hire non-Muslim candidates. I was quite shocked when I read this, I took a screen shot of it and posted it on Facebook," he said.
"At a time when Prime Minister Narendra Modi is visiting foreign countries and inviting them for investment and pushing ahead the 'Make in India' campaign, the leading export houses are rejecting candidates for their religion," he said.

Even as his social media posts triggered an outrage against the company, it sent a regret mail to Khan, blaming a trainee in its HR team with no decision-making powers for the "blunder".

"It was a blunder and personal mess created by one of our trainees who has no decision making power," Hari Krishna Exports Private Ltd said in the mail.
NCM chairperson Naseem Ahmed said, "We just received a petition this morning and as per our set procedure we will call for the comments of the respondent company and based on their response we will decide our course of action.

"If there is any truth in this, it is unfortunate. An inquiry should be conducted," he said.
Reacting to the controversy, Minister of state for Minority Affairs Mukhtar Abbas Naqvi said, "A person's caste, region or religion cannot be a demerit.
"Discrimination on the basis of religion is neither allowed by our system nor the Constitution. If there has been case in which he (Zeeshan) was denied or fired from the job only on the basis of his religion, then I feel its not right," Naqvi said.
Image: MBA graduate Zeshan Ali says he is shocked at being rejected because of his religion.