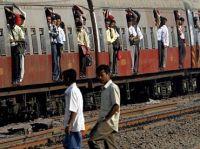 A commuter travelling on a suburban local train died while seven others were injured after falling from the train after being sprayed with suspected yellow powder-like substance between Sion and Kurla stations of Central Railway in Mumbai on Monday evening, railway sources said.
"It is suspected that a yellow powder-like substance was thrown at them from a train passing in the Up direction. This caused irritation as well as other symptoms of uneasiness leading to their falling off the train," railway authorities said in a late night statement on Monday.
The victims were travelling on Dadar-Thane local and the incident took place at about 7:55 pm.
Government Railway Police have collected sample of the powder from victims' clothes.
The injured have been admitted to BhabhaHospital and SionHospital. One of the injured persons died in the hospital, the release said.